This pretty bouquet was at the grocery store, and I could just not resist as I do love Hydrangeas. Isn't it pretty!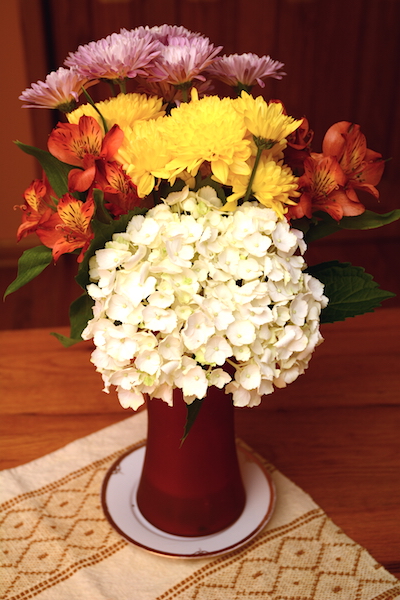 I hope you are not getting tired of seeing this next quilt! It is the free motion quilt sampler from the Facebook group: Sit Down Free Motion Quilters. This week I attached the binding, so I wanted to show it one more time. I used scraps of binding leftover from previously made quilts.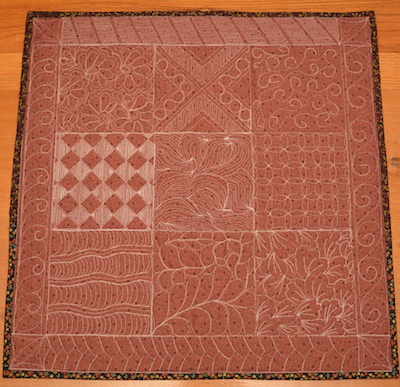 And here are the three charity quilts that will go to Veterans. I attached the binding on to them this week, again using binding scraps left from previously made quilts.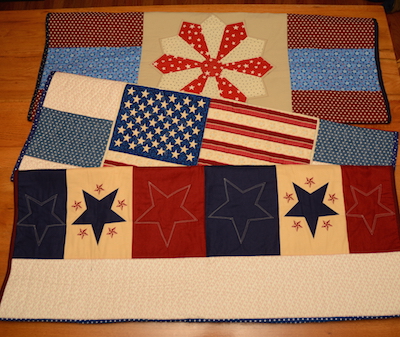 Do you have a box of bits of bindings? I do like the scrappy look. Even though it does not show in the above photo, each quilt has at least 2 different fabrics in the binding.
Thursday was my sewing day with my Curvy Quilters group. I dug around for a UFO to work on and came upon the beginnings of a hexie quilt.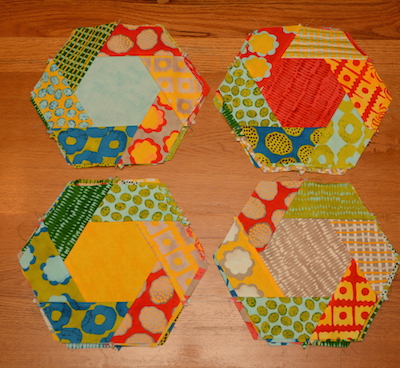 I had 3 packs of Moda Honeycomb hexies of the fabric line From Outside In by Malka Dubrawsky. There are 42 hexies per pack. I used the solids and some tone-on-tone line prints for the centers, and cut the remaining hexies in half, then sewed them around the center hexies. Now I just need the right fabric for set triangles. That means more shopping!
I had a simple list for this week to complete as Hubby was home on Spring Break. We had a nice week that passed way to quickly! Yet, I actually got all my little projects checked off the list this week.
Last week's To-Do Tuesday List, how did I do?
Bind FMQ sampler. ✔️ All done!
Continue working on 2 charity quilts. ✔️ Quilted and bound!
Sewing day Thursday with Curvy Quilters. ✔️It is always nice meet with my friends.
Enjoy Hubs being home! ✔️The week went by too quickly. Sigh. Summer vacation will come.
This week's To-Do Tuesday List
Continue hand work on Dropcloth Sampler.
Blanket stitching 4 1/2″ squares (a new project I'll share next Tuesday)
Start customer T-shirt quilt.
Enjoy weekend with family.