This past week I fit in two full days of sewing with friends. I focused on completing the Fence Rail Star quilt during those two days. And ta-da! I did complete that quilt top!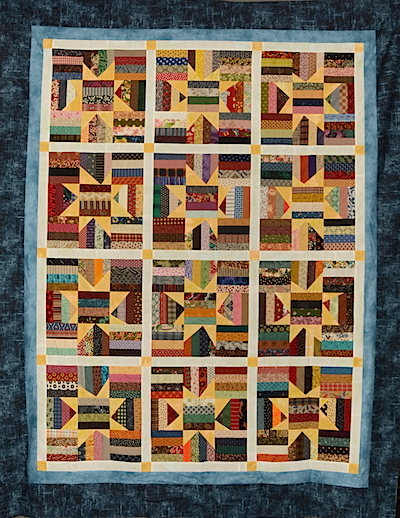 Yesterday I made a quick trip to my LQS to pick up a ruler set I had ordered. And while there, I looked through the fabrics in their clearance section and found this piece for the back of the Fence Rail Star quilt.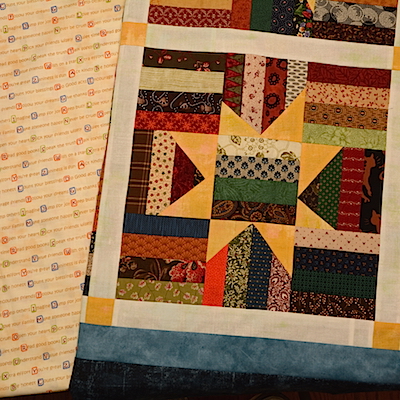 I just thought the sayings on this piece worked perfectly with the scrappy quilt top!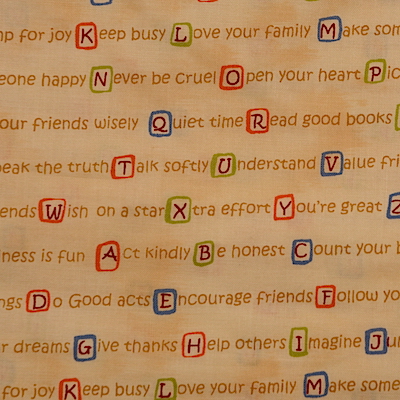 The print has a saying starting with each letter of the alphabet: Act kindly, Be honest … Jump for joy … Make someone happy … Read good books, are a few of the saying.  Cute, right?! The fabric line is Ron's World by Buggy Barn for Henry Glass & Co.
I also spent some time catching up on a BOM I'm doing this year. Here are blocks 6 & 7 completed for the Facebook Sit Down Free Motion quilting BOM.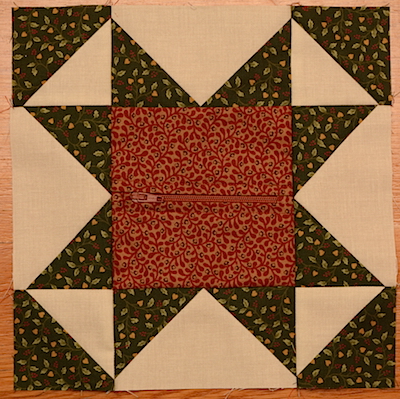 Block 6 has a zipper pocket in the center of the star. I can see this block used in future quilts to tuck little notes in for kids quilts, or maybe wedding quilts. Where would you use a zipper pocket in a quilt?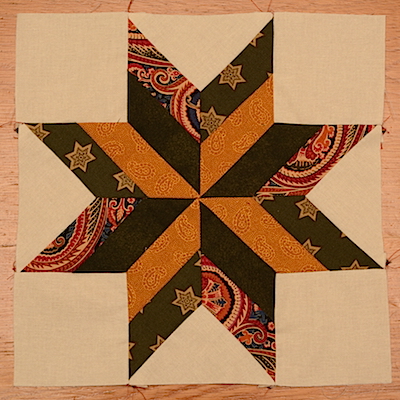 Block 7 was paper pieced and has those dreaded inset corners and triangles. Our instructor is doing just a bit of pushing to help us all overcome some piecing fears! Have you conquered inset and 'y' seams in your piecing?
And I did get a few of the On the Wave units sewn together. This is a quilt-along sponsored by Goshia of Quilts My Way.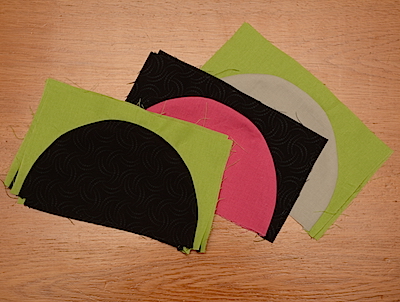 Goshia's quilt-along is called Sew All Around. That may be a clever play on words as both of the quilts she has presented have curved piecing! Have you ever made a quilt with curved piecing?
How did I do on last week's To-Do List?
Fence Rail Star quilt – sew together rows, maybe get to borders. ✔️ top completed and back purchased!
Layout On the Wave quilt pieces, start stitching. ✔️ layout ready and stitching started!
To-Do List for this week:
Piecing On the Wave quilt top.
Piece back for Fence Rail Star
That's all for now! Thanks for stopping by!
Tags: Sew All Around BOM, Sit Down Free Motion Quilters FB Group