Today I made progress on the Fence Rail Star quilt. The star points are all attached, the 12 blocks are constructed, and some sashing is sewn on. I hope to get this top completed this week!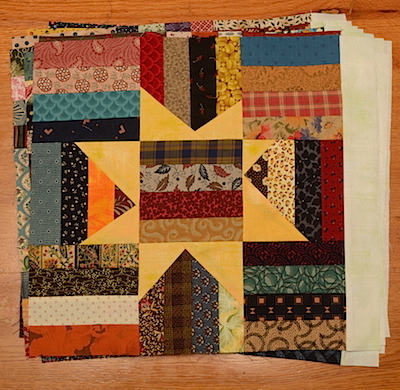 I have all the corner stones cut, and most of the sashing. Here is a quick peak with a few pieces of sashing in place.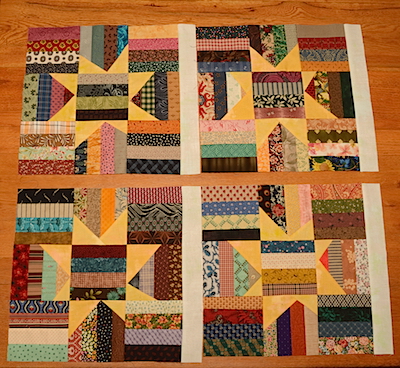 Yesterday I finally sat down to work on the BOM from the Sit Down Free Motion Quilters group on Facebook. I was 2 blocks behind.
Block #5 is now complete.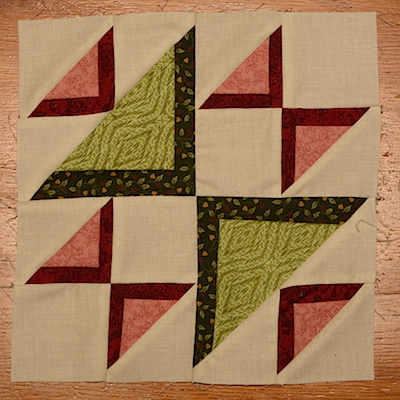 This block has some dimension because the pink and light green triangles are actually Prairie Points.
New project alert! I have been following Gosia Pawlowska's "Sew All Around" quilt along on Facebook. She has introduced a new pattern design, On the Wave. I've decided to once again play along.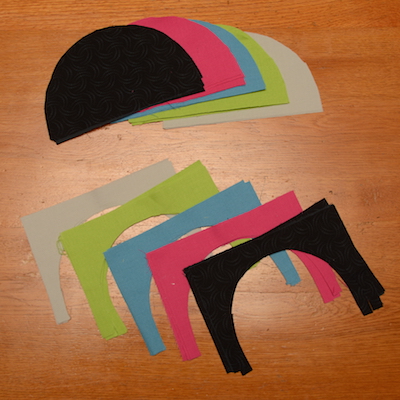 I think she likes curved piecing! This is the second quilt in the series, and both have had curves in the construction. My pieces are all cut and ready to lay out for stitching together.
How did I do the last To-Do List?
Fence Rail Star quilt – sew wonky star points. ✔️ Blocks all sewn, and started attaching sashing.
Starting new project – Sew All Around Quilt Along – pattern: On the Wave by Gosia Pawlowska. Make templates, and maybe start cutting fabrics. ✔️ Templates made, and pieces cut!
To-Do List for this week:
Fence Rail Star quilt – sew together rows, maybe get to borders.
Layout On the Wave quilt pieces, start stitching.
I'm linking to To-Do-Tuesday and Linky Tuesday. Go take a look at all that is going on in the sewing/stitching/quilting world!
Tags: Sew All Around BOM, Sit Down Free Motion Quilters FB Group