Monday, May 31st, 2010
This is my one finish for the month of May with OPAM sponsored Peg and Kris. This is a year long challenge to finish at least one project a month and then post it  on your blog. Of course if you are making more than one project a month, you share those as well. I've had a very slow month.
I bought this pattern from vendor Kaye Moore, while at the International Quilt Festival, Chicago, in April.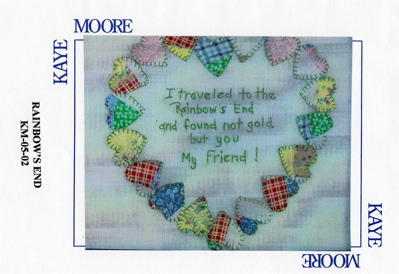 I changed it up just a bit by hand stitching yo-yo hearts to the background fabric and free motion stitching the saying.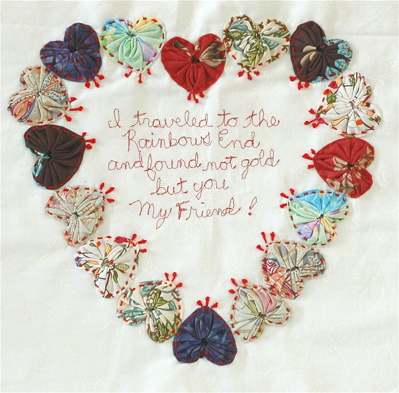 I really love how this turned out! I am not a hand embroiderer, so I'm very tickled by my attempt at those french knots! This was playing and I hope to do more, learning hand embroidery!  The idea to free motion machine stitch the saying came from Rebecca Sower's red thread sessions. Altho I have done free motion quilting, I'd never done free motion writing, but once I saw Rebecca's session # 3, I knew that was how I would apply the saying for this project. (Thanks for the inspiration Rebecca!) And the last bit about this piece is the fabric is all from a swap/challenge hosted by Melissa of Ardea's Nest. 8 of us swapped fabric and then use a piece of each of the fabrics in one project. I used the fabrics to make the heart yo-yos. Thanks for hosting the sawp/challenge Melissa! It was fun being a part of it and I'm just plain-o tickled with my piece!
And, I just kept playing with the hearts – this piece is not finished yet. I know, I need to learn some other embroidery stitches.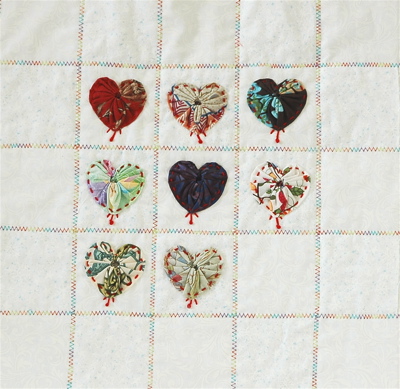 (Photography by Noel Schutt. Thanks son!)