Friday, January 15th, 2010
As posted earlier, I've joined the group One Project a Month (OPAM) as incentive to myself to create and blog about it. I have two new projects to show so far for January.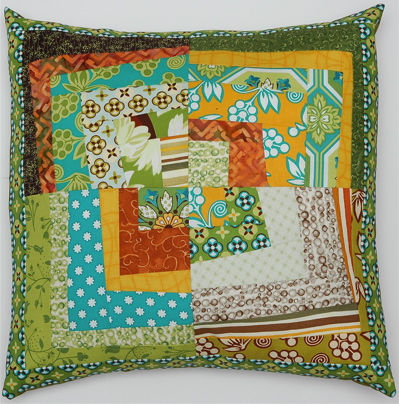 This is called Wonky Half Log Cabin Pillow, from a tutorial on Jacquie Gering's blog,  Tallgrass Prairie Studio.  (Jadquie has lots of tutorials available, and I must say, this one was very well written! It's the only one I've used so far.) I love this design! I made a quilt similar to this years ago and donated it to an auction. Years ago as in before my blog existed! This pillow is for my daughter. I have a Chevron quilt in progress for her, and used the left over strips for the pillow.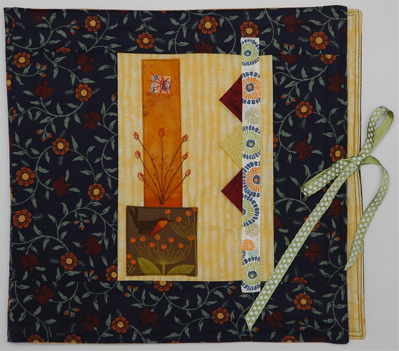 This is the front cover to a little tote that opens like a book. I made this as a gift for the OWOH project that starts January 25. Come back to my blog on the Jan 25 – Feb 15 for a chance to win it! The design could also be altered to create a journal cover – I'm thinking of future projects here.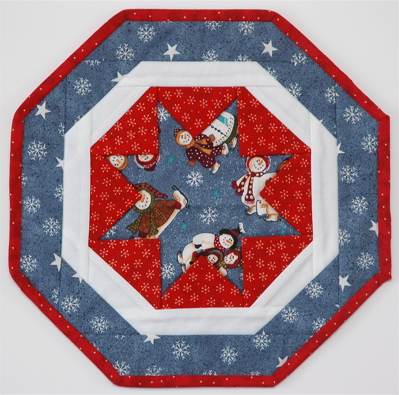 I can't count this one for OPAM, because I finished in back in July. That was when I planned on being busy making Christmas gifts for 2009 – my personal Christmas-In-July-Sewing-Event! But this is the only one I completed! LOL I still plan to send it to my MIL as a thank-you for the Christmas gifts she sent our family. I think the snowmen can be displayed throughout the winter season.  It is small, 8″ across, and I think could be used as a candle mat, coffee mat or just a decoration. And if it gets used as a pot holder – I'm OK with that too!
There is a link on the side bar to OPAM if you are interested in seeing what the other 199 ladies are working on this year!  And do check out Lisa's OWOH Event to join in the blog hopping to see what hundreds of other creative people are up to and consider joining too! All the rules are posted on the event page.