3 Creative Studios is hosting a quilt challenge all year long. Every other month they will post a word and the challenge is to interpret that word in the form of a quilt. The first word was "Puzzle."
When reading the word puzzle, my thoughts went immediately to Autism. A puzzle piece is often associated with autism – used as a logo. Several years ago I briefly worked with a local company, Sensory Critters, who create items to help those with autism. The little fellow below is part of Sensory Critters' logo. I had visions of using him (stitched here in outline form) along with the fabric pictured in my puzzle quilt.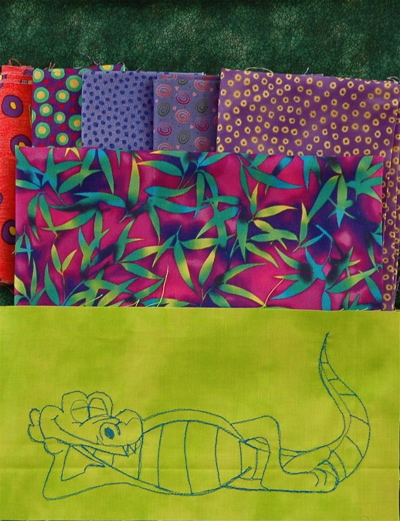 But alas, sometimes things happen in life that take us off our course. That happened to me last week. Instead of happily working on the puzzle quilt, I found myself dealing with a group I belong to with issues I can not discuss here. I found myself puzzling over people's behavior, dealing with strained and frayed relationships, and looking for answers to money issues. As these are being resolved and now thankfully working towards closure, I found myself thinking of a new Puzzle quilt for the challenge. It is with great joy that I share this little creation! It was so fun to make and very healing after all the stress of the past week and a half!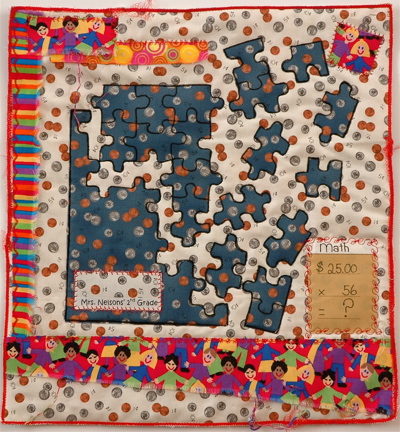 I have either a very long title for it, or a choice of three titles: Missing Pieces, Too Many People & Not Enough Money, or Where Does All the Money Go?  Notice the frayed edges of the 'people' fabric and the striped fabric. I left the raw edges on purpose. If I had the time to shop for fabric, I would have liked to use novelty fabric printed with bills – $5, $10, $20s. But, I happened to have the coin fabric in my stash, so that is what I used!  It was called "Mrs. Nelson's 2nd Grade." I loved that!! And had to include the selvage in the quilt!  The quilt is bound with ribbon and tomato bag netting.  This was a great challenge and I look forward to the next word being revealed!  Oh! And I do hope to get back to the Sensory Critters quilt in the near future.
Tags: 3 Creative Studios