Tuesday, March 29th, 2016
This is Week 8 and the last week of the Facets Quilt Along hosted by Christa Watson of Christa Quilts.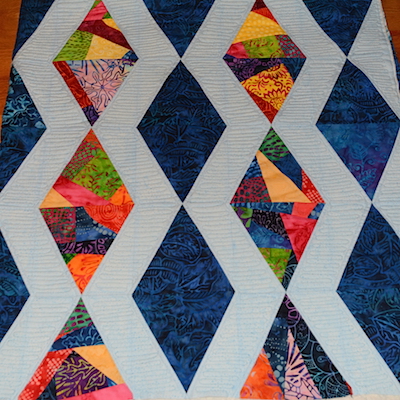 I'm currently quilting in the blue triangles, and then there are swirls to do in the improv pieced triangles. Then the home stretch for the binding! Friday is the deadline for completing, if you want your name entered in Christa's prize drawing. Participants get one chance per week completed, for a total of 8 chances. My goal is to complete the quilting and binding this Friday.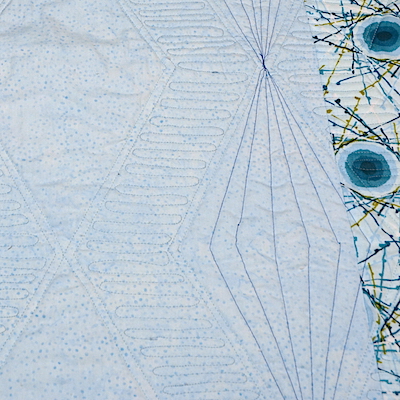 Above is the back of Facets, and you can see the quilting lines completed so far in the blue triangles. I'm using a ruler and ruler foot on my domestic Janome. (psst! I'm taking Amy Johnson's Craftsy Class – Quilting with Rulers on a Home Machine) Facets is a learning process! Not perfect, but I'm happy with it!
I should be farther along on the Facets but this got in the way! Just kidding! Not in the way, but it called my name loud and clear and I just had to make it! Sandy is hosting the One Block Wonder BOM. She provides a pattern for one block each month that she has created, and participants use the pattern to create at least one block or any size quilt they desire. I downloaded the pattern for March early on, and then never got to it. Last week I saw Sandy's post of her lovely quilt using March's block, and decided Monday (yesterday) I would work on the block. I love it!
Here is my quilt top so far.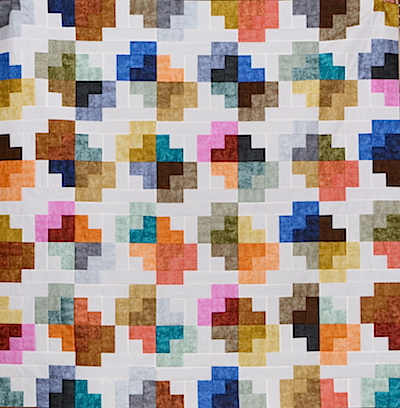 Monday I hosted my little quilting group, and this is what I worked on. I finished it up today. Still need to decide about borders. I was gifted a Fat Quarter pack of Raindrops by Andover Fabrics for my birthday. When I saw Sandy's quilt I knew Raindrops would be perfect for this pattern! I used Kona Snow for the white. 25 Blocks set 5 x 5 measuring 60″ square so far. Thank you Sandy, for the great pattern!
While working on the One Block Wonder yesterday, of course the gals asked what I was up to. I explained about the One Block Wonder BOM, and they laughed and said, "So you are starting 12 unfinished projects this year!"  I laughed and said, "Yes, I guess so! I have been making mostly table toppers or runners with the monthly pattern, but none of them are completed. I'll have to put them on next year's 'to be quilted' list!" I actually thought by just making a table topper, I'd be able to get each one pieced, quilted, and bound in a month's time. I'm still hoping to finish at least some of these projects monthly!
How did I do on last week's To-Do List:
Continue quilting the Facets quilt. ✔︎ It is coming along! Hope to bind it Friday.
Shop and prepare my part for our family Easter Dinner. ✔︎ We had a wonderful day and hope you did too!
Maybe work on the Machine Quilting Block Party Feb block??? At least get it marked for quilting! ✗ Nope. Because I decide to make the One Block Wonder quilt instead of working on the MQBP block.
This week's To-Do List:
Finish the Facets quilt!
Start on Bargello quilt.
Procrastinate even more on the MQBP March block, but go ahead and purchase the April block.
I'm linking to To-Do List and Linky Tuesday.