I started off February by making this month's block in Leah Day's Machine Quilting Block Party, Mystery Quilt Block #2.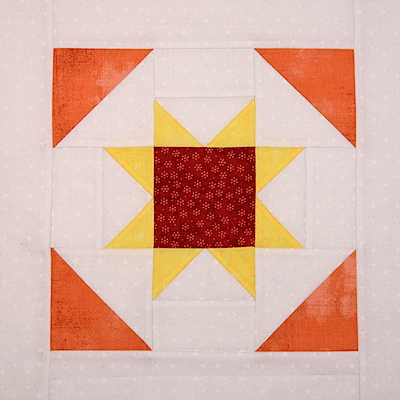 For the star points, I used the Lazy Girl No-Math Ruler technique. I'm using scraps from my stash for this BOM. I love the orange Grunge in the corners, which was leftover from another project. There might not be enough left to show up in another block. I'm challenging myself to NOT buy fabric for this quilt along, other than white for the background.  I'll be replenishing whites from the LQS at their next sale. I'm amazingly low right now on whites and creams.
Below is January's Block pieced and quilted.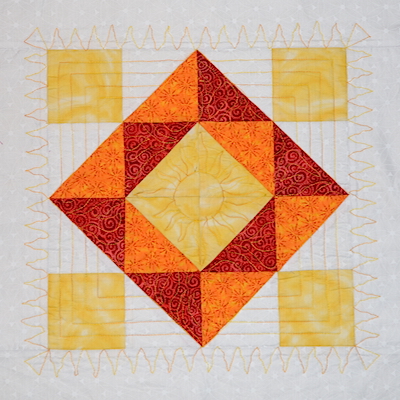 Leah's Machine Quilting Block Party uses a Quilt-As-You-Go Technique. I have only made one quilt in this style, and Leah's technique for joining the blocks is different from what I learned years ago. I'm looking forward to learning her process this year.
Next are the two blocks I made for January's One Block Wonders BOM.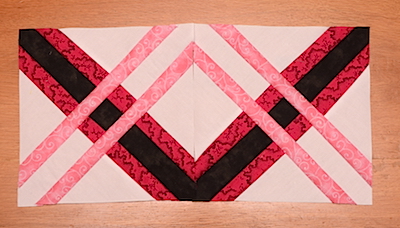 I have cut enough pieces to make a small quilt, but only got 2 blocks made. They will have to go into the WIP pile!
Next are the fabrics I will be using to piece the improv part of Christa Watson's Facets Quilt Along.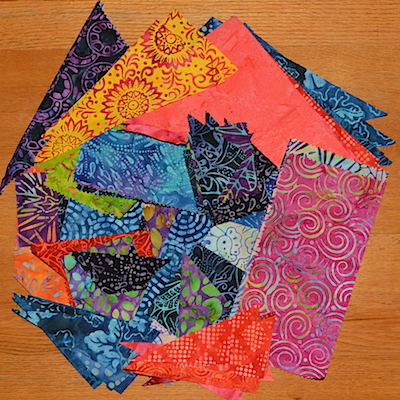 I had leftover Batiks from another project, and since they are scraps, I thought they would be perfect for improv piecing.
Next up are T-shirts prepped with Pellon fusible interfacing (P44F) and squared up at 16 1/2″.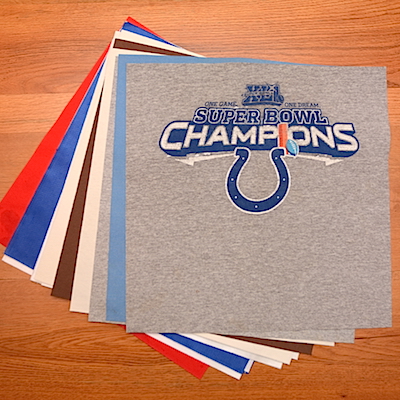 Using 16 shirts, I'm placing them in a 4 x 4 configuration. I need to shop for fabric for the sashing, corner stones, border, backing & binding. I'm waiting for the LQS sale that starts Feb 8th.
How about you? Are you trying any new-to-you techniques this year? I'd love to hear about them!
How did I do on last week's To-Do List?
GOT to get to the January One Block Wonders, deadline Friday! ✔️Got 2 blocks made, and enough pieces cut for a quilt top.
Finish FMQ Machine Quilting Block Party January Block ✔️ I'm pretty happy with how this block turned out!
Prep those t-shirts! ✔️ The least fun part in the process of making a t-shirt quilt!
This week's To-Do List:
Start a new customer quilt, it's a Bargello with appliqué. King size!
Start piecing the improv fabric for the Facets quilt.
I'm linking to Linky Tuesday and To-Do Tuesday.
Tags: Facets Quilt Along, Machine Quilting Block Party, One Block Wonders BOM, T-Shirt Quilt