That was fun!
Batik scraps sewn together for the Facets Quilt-Along.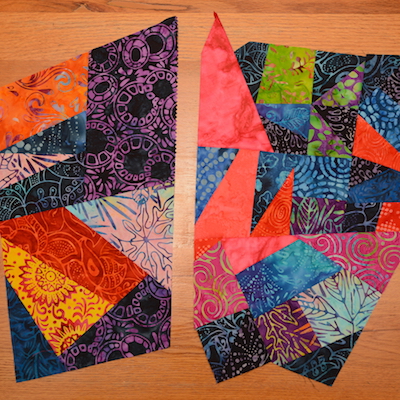 I have sewn together several improv sections using odd shaped Batik scraps. These will be cut into 2-4 triangles each, which is the next step in the Quilt-along.
Next up – Batik Strip Sets for a Bargello quilt.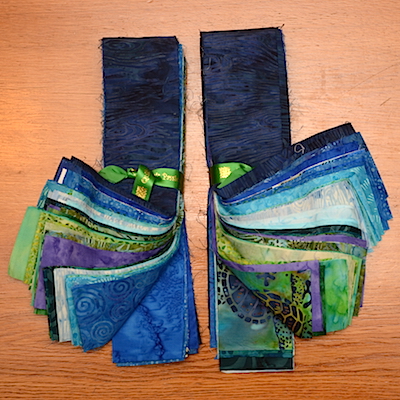 I have 4 identical strip sets of 24 fabrics each, but need one more to be able to make a King size Bargello. The quilt shop & I have been on the phone and emailing to figure out how to match one more set! Sure hope it works out!
Have you ever had your plans foiled by not having enough fabric? I'm formulating Plan B in case I need one for the Bargello quilt.
How did I do on last week's To-Do List?
Start a new customer quilt, it's a Bargello with appliqué. King size! ✔️Started! But no sewing yet. I calculated out the yardage, and it appears I don't have enough to make the quilt as wide as needed. Bummer. I have contacted the quilt shop, and they do still have the fabric needed. Waiting for it to be confirmed & shipped!
Start piecing the improv fabric for the Facets quilt. ✔️All pieced and ready for next step.
This week's To-Do List:
Wait patiently for fabrics for the Bargello quilt. (With Lots of praying!)
Get back to the T-shirt quilt while waiting for the Bargello fabric. Have to go shopping for the sashing, border, etc.
Cut triangles for Facets quilt.
Back to next UFO – Sew border for Curve-It-Up quilt/Sew Kind of Wonderful pattern.
Linking to Linky Tuesday and To-Do Tuesday.