I'm so pleased to have this quilt top completed! I had parts of the border pieced, and took it along to my sewing day with the Curvy Quilters. I got the border all pieced and attached!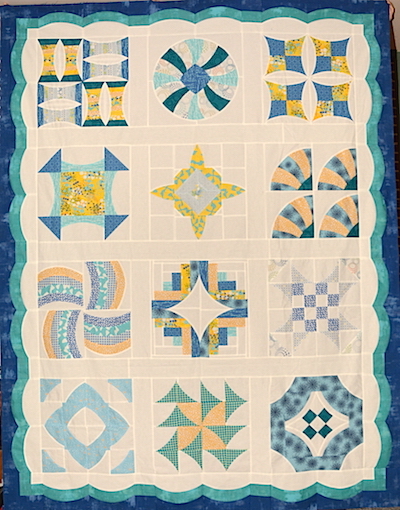 This is Sew Kind of Wonderful's Curve It Up pattern. I used Moda's Sphere by Zen Chic for the pieced blocks and Moda Grunge for the border. Moda solid white for the background.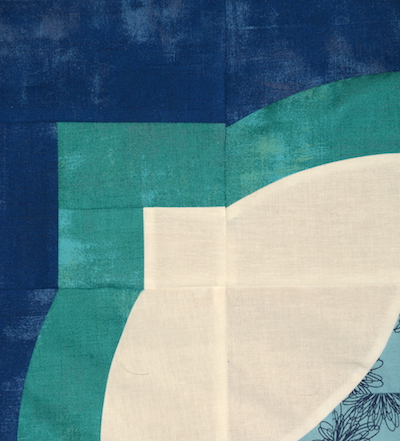 The Grunge border just makes me happy! I think it plays well with Sphere. This quilt is going into the 'to be quilted' pile. Sorry dear quilt top, you are once again a UFO.
Here are a few of the triangles cut from the improv piecing for the Facets Quilt-Along I'm doing with Christa of Christa Quilts.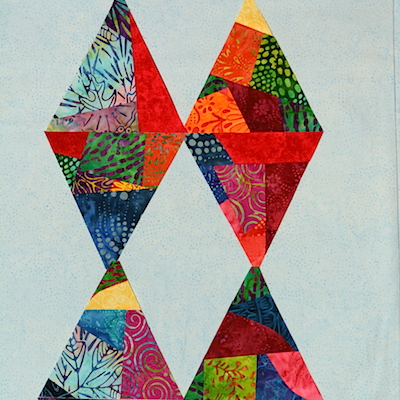 I'm using all Batik scraps from previous projects. I bought a pale blue batik with random splattered dots for the background fabric. I'm enjoying the process of this Quilt-Along. I like how Christa has broken the pattern down into weekly steps, with 8 weeks for the quilt-along. That includes machine quilting and binding, so I hope I can keep up!
How about you, are you particapating in any quilt-alongs or Block of the Months this year? If so, are you keeping up with the monthly schedule?
How did I do on last week's To-Do List?
Wait patiently for fabrics for the Bargello quilt. (With Lots of praying!) Still waiting.
Work on T-shirt quilt while waiting for the Bargello fabric. Have to go shopping for the sashing, border, etc. ✔️Bought & washed fabrics, cutting sashing strips.
Cut triangles for Facets quilt. ✔️Triangles cut from the improv piecing. Background fabric purchased.
Back to next UFO – Sew border for Curve-It-Up quilt/Sew Kind of Wonderful pattern. ✔️ Another UFO top completed!
This week's To-Do List:
Call quilt shop again, about fabric for the Bargello quilt. I've come up with a Plan B, that I hope they can accommodate.
Work on t-shirt quilt.
Cut background fabric for Facets Quilt-Along and start sewing top together.
FMQ February's block for the Machine Quilting Block Party with Leah Day.
I'm linking to To-Do Tuesday and Linky Tuesday.
Tags: Facets Quilt Along, Linky Tuesday, To-Do Tuesday, UFO Challenge