Social media can be so distracting. I'm enjoying all the Splendid Sampler photos popping up on Facebook. Tempting to join in, but I won't as I have too many of my own ideas to keep me busy. If you are interested in making 6 inch finished blocks – 100 of them, with free patterns, 2 a week, check out the Splendid Sampler hosted by Pat Sloan and Jane Davidson.
Have you seen posts from QuiltCon 2106 held this past weekend in CA? Photos are popping up on blogs and Facebook. QuiltCon 2017 planning is well underway and will be held in Georgia. Wouldn't that be fun to attend!?
After spending too much time photo gazing, I didn't get much sewing done. I ended up pulling out the One Block Wonder February pattern and pieced four blocks for a little table topper.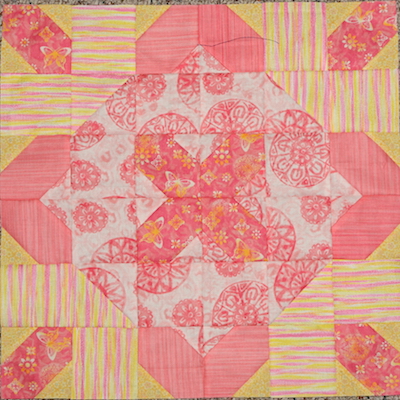 This is a 9″ block, repeated 4 times, for an 18″ square table topper, I used Soft Dreams by P & B Textiles.
How did I do on last week's To-Do list?
Call quilt shop again, about fabric for the Bargello quilt. I've come up with a Plan B, that I hope they can accommodate.✔️Plan B should be in the mail. I hope the package arrives later this week!
Work on t-shirt quilt. ✔️ I made progress, but not as far along as I would like to be.
Cut background fabric for Facets Quilt-Along and start sewing top together. ✔️ Pieces all cut, and some sewing completed.
FMQ February's block for the Machine Quilting Block Party with Leah Day. ✖︎ It's sitting here, still not marked or quilted.
This week's To-Do List:
Finish piecing the T-shirt quilt top & back. Take to longarm quilter.
Piece Facets Quilt Along top.
FMQ February's Machine Quilting Block Party block.
I've allowed myself to be distracted by Facebook and blogs this week. Is there anything that easily distracts you from your well laid plans?
I'm linking to To-Do Tuesday List, and Linky Tuesday.