After a lovely weekend of temperatures  in the 60s, we have 30s today and SNOW! I do love snow, but I'm ready for Spring! Sunny days and warmer weather. Patience, right!? On the up side, our Snowdrops are blooming in the backyard! (I should have taken a picture Sunday.)
I've made some progress on
Facets Quilt-Along
. I only had enough batik scraps for 4 rows of the triangles.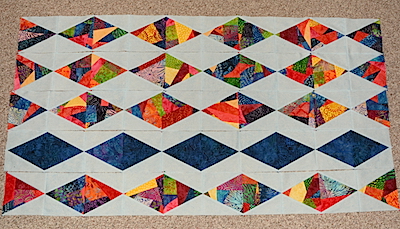 I will alternate the blue triangle rows with the improv pieced batik rows. Christa's pattern calls for one row of solid triangles, and eight rows of improv pieced rows. After I finish piecing the blue batik triangles, I will alternate them with the improv pieced rows.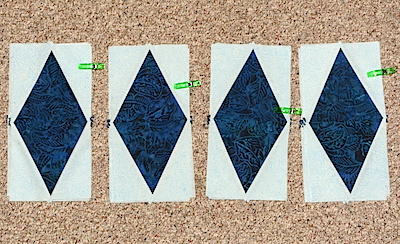 Four more rows to piece!
How has the first day of March been for you? Nice weather and happy sewing? Hope so!
How did I do on last week's To-Do list? I made a short list, as I thought that would help me accomplish everything this past week. Nope. It was just one of those weeks. Now that March is here, I'm hoping for a better month!
Finish piecing the T-shirt quilt top & back. Take to longarm quilter. ✔️
Piece Facets Quilt Along top. ✖︎ Still work'n on it.
FMQ February's Machine Quilting Block Party block. ✖︎ Does printing off the directions count for anything?
This week's To-Do List:
Finish the Facets Quilt-Along top!
FMQ February's Machine Quilting Block Party block!
Return to sewing on the next UFO on my list which is Metro Hoops by Sew Kind of Wonderful. My plan is to work on it at Thursday's Curvy Quilters Group.
I'm linking up with To-Do Tuesday List, and Linky Tuesday.