I baked this yesterday and then forgot to post!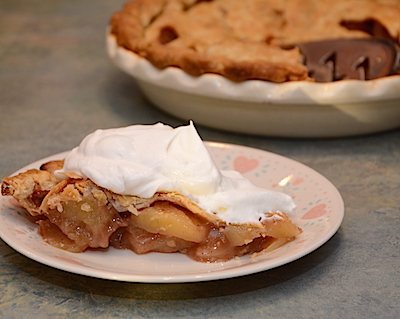 Happy Pi Day!
Last week my youngest and I went to visit our east coast relatives during her college spring break. As it worked out, we hit the right week to help my father with downsizing. It was an emotional time for all of us, my sister, my brother & his wife also helped out. Mom has been moved to the dementia unit at the retirement home they have lived in the past 10 years ago. Good thing is she still recognizes all of us and can hold a decent conversation – for a while. Then she slips back about 20 years.
Since this was supposed to be a vacation for my daughter, we did go into Baltimore Harbor for a day, visited the aquarium, walked the Harbor, eat lunch out. And in the evening met up with my sister and her husband for dinner. We had a nice time visiting on the pier at The Point Crab House. (Thank you Russ and Lauren!) The weather was seasonable warm, so the restaurant had opened up all their doors, we ate out-of-doors. Yum! Crab cakes!
Then on Friday, we visited relatives. It is always nice to catch up with everyone! No quilt shop visits this time! LOL
Today I picked up the customer t-shirt from the longarmer.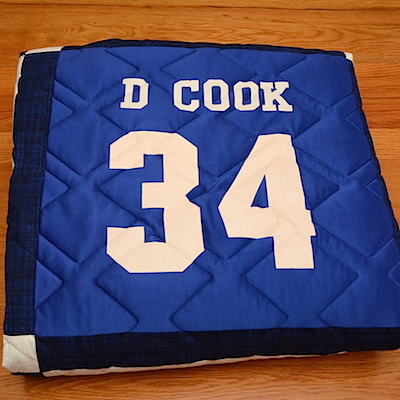 I hope I have already made the binding. I usually do, so it is just so easy to sit down and stitch it on by machine.
Before leaving for our trip, I did finish piecing the Facets quilt top for Christa's QAL.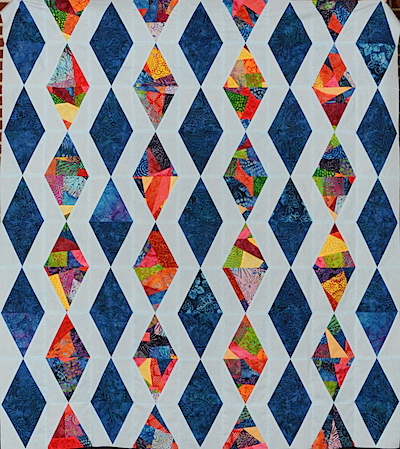 I love how it has turned out! I was using Batik scraps left over from 2 other projects and had enough to make 4 improve pieced rows. Now to find the right fabric for the back and binding. I'm behind, as everyone else in the QAL are already working on the straight line quilting.
How did I do on my last To-Do list?
Finish the Facets Quilt-Along top! ✔︎ All finished!
FMQ February's Machine Quilting Block Party block! ✗ I just can't seem to get to the MQBP blocks! I'm behind by 2 now.
Return to sewing on the next UFO on my list which is Metro Hoops by Sew Kind of Wonderful. My plan is to work on it at Thursday's Curvy Quilters Group. ✔︎ I have been sewing on this one.
This week's To-Do List:
Bind the t-shirt quilt and deliver to customer.
Find a back for the Facets quilt. Sandwich!
Grocery shop! Kitchen is looking empty since I was gone last week.
If time always, I hope to spend some time on the Machine Quilting Block Party February block.
I'm linking to Linky Tuesday and To-Do Tuesday.
Tags: Facets Quilt Along, To-Do Tuesday