Thing 1: Saturday, my family was invited to a baby shower. For some reason, I thought the baby was a boy, but nope, tis a girl. That meant a quick look around the studio for girlie fabrics. I usually make a self-binding baby blanket for baby showers, but didn't have any girlie flannel prints in my stash, but I did find a kit for a baby tag blankie. Phew! Saved! I whipped it up Friday, and ran to the store to pick up a couple other baby items to add to the gift. I bought a chubbie baby book & a rattle/toy. When I was packing up the gifts, I was fearing that the mom might be one of those gals who hates pink! But when she opened it, she said pink is her favorite color! And her husband chimed in saying he has always wanted to learn to quilt. I told them my door is open if they ever want to come over to learn to make a baby quilt. So we will see if anything comes of that. Baby is due mid-April. I think they might be a tad too busy for quilting for a while!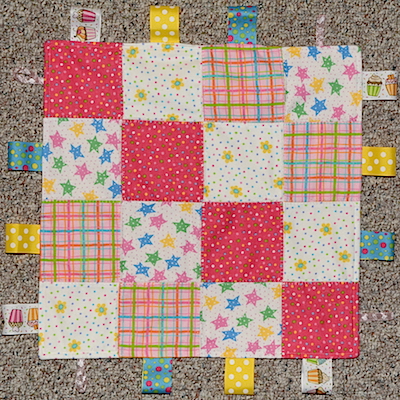 Thing 2: My middle married daughter wanted to make a simple quilt for their new king size bed. We shopped together for the fabric, and I cut out strips according to her design. She took them home and sewed the top together. Then she brought it back to me to quilt. When I saw how huge it was, I was not willing to try to straight line quilt it on my home machine. So it sat for a while, since last Fall! Talking with a friend, who happens to own a longarm, she told me to bring it over and quilt it on her longarm! (which I did in late February) This was my first time to quilt on a longarm, I was thinking straight line quilting on a longarm would be difficult. Turns out I was wrong! My lines are mostly straight, the hard part was setting them up at a 1/4″ from the seams, as my daughter requested. I should have used a ruler to measure each row. Some are 1/2″ from the seams! When my daughter was up last weekend, she said she loved it! Phew! The variety in the stitching coordinates well with the various fabric widths. My daughter selected a dark gray from my stash for the binding. Yesterday I wrestled the quilt into submission to bind on my machine! That was a work out! I'll ask my daughter to take a photo of it on her bed once she gets it to her home, next weekend. I'm glad to have it completed, but really, too bad winter is over when she and her hubby should have been enjoying it!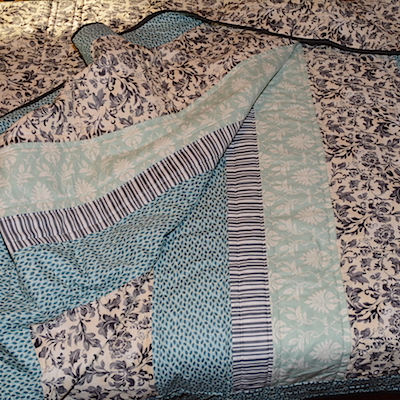 So, dear quilters, what have you forgotten about lately? Or are you so well organized you just don't overlook projects?
On to my planned projects from last week – The t-shirt quilt is complete! I love the geometric design the longarm quilter used for this quilt! Hoping my customer agrees!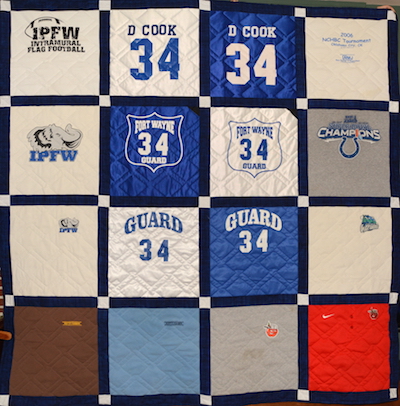 My Facets Quilt-Along quilt is finally getting some attention from me! Today I whipped up a back from the left over dark blue and light blue batiks, and had to add two more fabrics to make it large enough. (not photoed) Then I spray basted the sandwich using 505 temporary adhesive.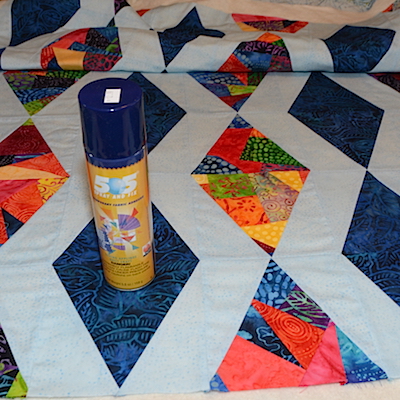 Using the Dual Feed with the Stitch-in-the-ditch foot, I stitched in the ditch around all the triangles. Next up is stitching 1/4″ from the seams in the light blue background fabric. I'm using Aurifil 2847 in the top and bobbin for the SITD and 1/4″ stitching.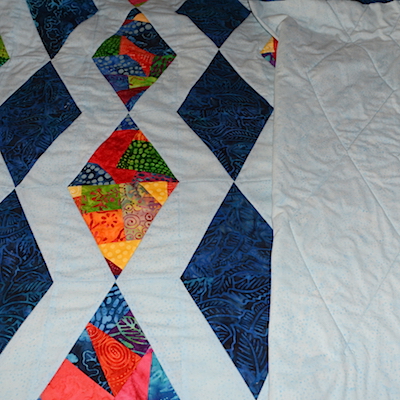 How did I do on last week's To-Do List:
Bind the t-shirt quilt and deliver to customer. ✔︎ T-shirt quilt bound! Customer contacted, but we have not met up yet.
Find a back for the Facets quilt. Sandwich! ✔︎ Just today, I sewed up the back, sandwiched, and stitched-in-the-ditch. Phew!
Grocery shop! Kitchen is looking empty since I was gone last week. ✔︎ And even did some yummy cooking!
If time always, I hope to spend some time on the Machine Quilting Block Party February block. ✗ Just not getting to this. Sigh.
This week's To-Do List:
Continue quilting the Facets quilt.
Shop and prepare my part for our family Easter Dinner.
Maybe work on the Machine Quilting Block Party Feb block??? At least get it marked for quilting!
I'm linking to Linky Tuesday and To-Do Tuesday.
Tags: Facets Quilt Along, Linky Tuesday, T-Shirt Quilt, To-Do Tuesday