Tuesday, January 19th, 2016
Perhaps I'm spending way too much time hopping around the internet! I'm finding some wonderful Quilt Alongs and Block of the Months (BOM) that are so tempting!
I've joined a few, and will be watching a few. Here's what I hope to participate in:
I'm thinking I'm a sucker at this point! At least #1 and #4 are just one block a month. I'll tweak the Facets quilt to my liking, and not sure what I'll make during the Tribal Block Club.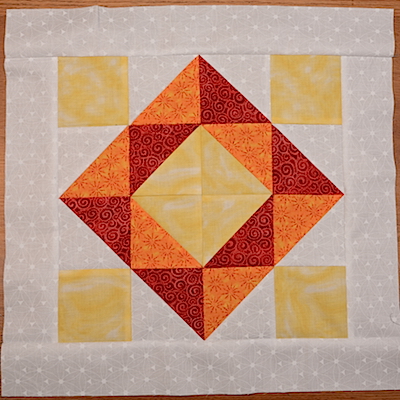 Above is Block #1 of Leah Day's BOM, pieced and ready to mark for quilting.
Here are a few Quilt Alongs I will be watching:
Quilt with Me Hosted by Katja of katjasquiltshoppe.com This quilt along is pieced hexies also constructed with a quilt-as-you-go technique. Plus it is English Paper Piecing (EPP) and Katja is using big stitching with perle cottons for the quilting. Lovely! You can follow along on her Facebook page. I think EPP and hand work is a lovely idea, I just don't see getting to it this year.
Suzybee Growth Chart is also a FMQ Quilt Along Hosted by Karen of karensquiltscrowscardinals.blogspot.com Karen uses preprinted fabric growth charts to practice FMQ. She will be sharing tips for improving FMQ. I bought the growth chart, (hope it arrives in today's mail! It did!) and will see if I actually fit this project in to my sewing time!
The Splendid Sample Hosted by Pat Sloan and Jane Davidson. There will be 100 – 6″ block patterns presented through out the year by many talented quilt designers.  There is a Facebook page too.  This one I'm watching! A friend sent me a link and asked if I would be joining. Mmmm, no! Not with everything else already planned!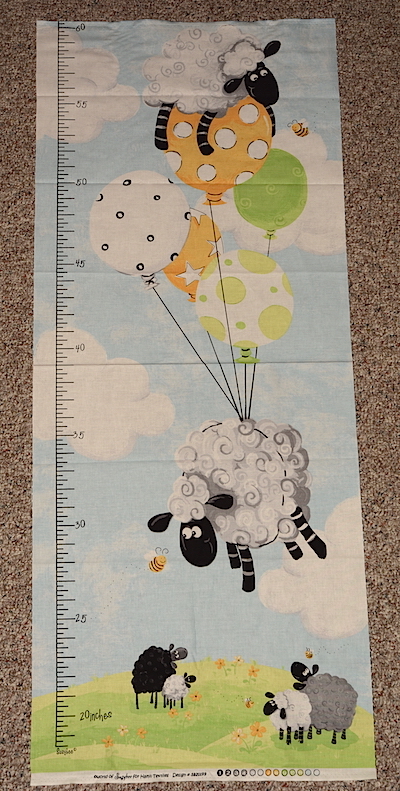 Above, preprinted growth chart for FMQ along.
I finished the Dot-to-Dot top. Pattern by Sew Kind of Wonderful. I have fabric for the binding, and some pieces left over from the top. I plan to piece those and put into the back.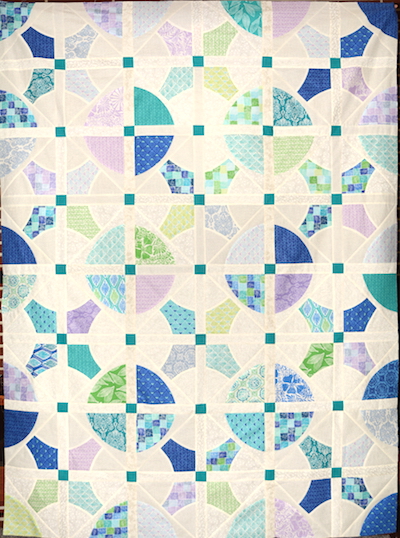 I used a Layer Cake pack of Horizon by Kate Spain and several tone-on-tone creams for the background. The top is 57″ x 76 1/2″.
How did I do on last week's To-Do List?
Add border to my daughter's quilt. ✔️Border attached and back made. Needs some longarm quilting.
Call customer to pick up her t-shirt quilt and pillow. ✔️She picked them up and loved them!
Work on Dot-to-Dot top. ✔️ Top completed!
Work on One Block Wonders January block.
This week's To-Do List includes getting to those BOM and Quilt Alongs!
Piecing One Block Wonders January quilt.
Mark and quilt first block of the Machine Quilting Block Party
Decide on fabric for the Facets Quilt
Start prepping t-shirts for next customer quilt
Tuesday, Jan 26, Curvy Quilters Group, pick a WIP to take to work on.