Tuesday, April 7th, 2015
Oh my, sometimes I just have to laugh at myself! Like when looking over my list for last week's sewing. I forgot when coming up with the list that Easter was last weekend! Can I say "a little sewing might have gotten accomplished"??  :-)
Here is a picture of my darling 3 month old granddaughter, Lillah. Her momma, Kim, took the photo Easter morning.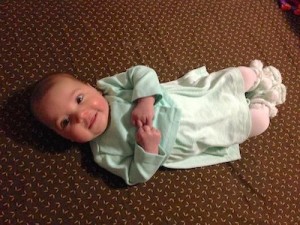 And here is Lillah with her Grandpa, my hubby John, after Easter dinner at our house.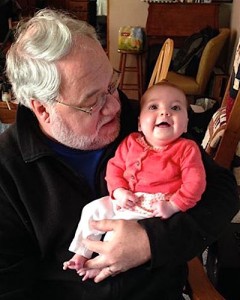 That was the only picture that I know of taken at our home Easter Sunday. Too bad as the whole family was over, we missed a good photo op time. We had a wonderful time together and a lovely afternoon walk in the warm NE Indiana weather.  All Lillah's aunts had fun holding and cuddling with her. Grandma didn't get much time with her tho. That's OK as it was so nice having all our adult children home for our celebration, plus getting to see them interact with Lillah.
Sewing! I got the binding  and buttons sewn on Stitcher's Garden. She's all done now!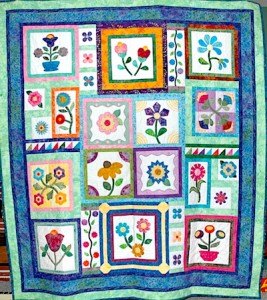 And I pieced  3 blocks for the Featherweight Club, meeting Wednesday, April 8th, at Fabrics and Friends Quilt Shoppe, Roanoke, IN. I think they are so cute! The blocks and the machine! ha ha! The 12″ block – Windblown was a new one for me.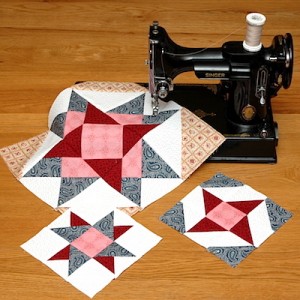 And here is the first block for the Curves without Piecing pattern: Dance of the Dragonflies. Actually two blocks. The first block shows what the piecing looks like before you go back and stitch the curves. The block on the right shows the finished block. Interesting process, a bit tedious. These are small 6″ blocks with out the sashing. But I do like the results, and I'm sure I'll get quicker with the piecing now that I'm familiar with it.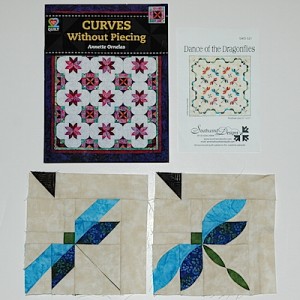 This week I have a sewing date with friends and I plan on taking the Jolene Star and Sweet Mint patterns to work on. So those two are on my To-Do list for this week. I'll save the baby quilt I never seem to get to until next week. At least the kitchen table where I spray baste baby quilts is all cleaned off, so I'll have a better chance at getting to it soon! Fingers crossed!
Linking to  Freemotion by the River – Linky Tuesday and Stitch All The Things – To-do Tuesday.