Tuesday, May 12th, 2015
Self-binding Baby Blankets are my current 'go-to' for baby showers.
Here are just a few, made from two coordinating flannels.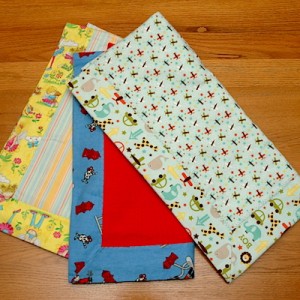 Fabrics and Friends Quilt Shoppe just got in a shipment of Riley Blake Flannels. The top/right blanket are Riley Blake. The other 2 blankets are older prints, I don't know the manufacturer.
Tomorrow is Featherweight Club at the quilt shop. Here are last month's blocks.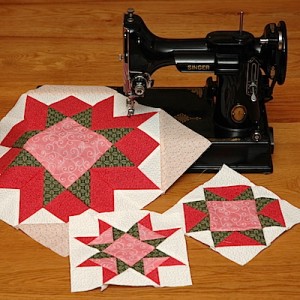 The club meeting sneaks up on me ever month! I just made the blocks yesterday. So much for avoiding last minute to sewing!
Not photoed is the table runner I free motion quilted but still have the binding to tack down. And also the Dance of the Dragonflies is almost complete! I cut out the border pieces today. Pictures promised next time!
I'm linking to Linky Tuesday and To-Do Tuesday.
This week's list will be binding the table runner and finish piecing Dance of the Dragonflies. I know, I listed them last week, but successfully worked on both, even tho not complete! I had forgotten about the Featherweight Club and then had a few baby blankets that needed to be made. That is life, right!?