Tuesday, March 24th, 2015
A friend and I started a Featherweight Club at Fabrics and Friends Quilt Shoppe, Roanoke, IN where we both work part time. Check out the Facebook page to see Vicki's lovely blocks.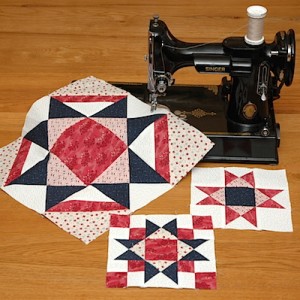 Above are my first month blocks, using Timeless Tradition BOM by Bits 'n Pieces. The Featherweight machine was purchased from blog friend, Vicki Welsh when she listed it on Ebay last year. I switched out that hot-burn-your-fingers light bulb to an LED bulb I found at Stitch All the Things. We put in a group order and Brad offers free shipping. If you happen to be searching for a better light bulb for your Featherweight, go to Brad.
I took advantage of Craftsy's recent sale for my Birthday!
I ordered the Free Spirit Box of 14 one yard cuts, Cotton + Steel Good Fortune Quilt Kit, some die cut hexes and layer cakes. When my order arrived it was missing the Free Spirit Box but came with a Robert Kaufman mystery box.  Oh my. NOT at all what I expected or wanted. But Craftsy was quick to fix the mistake and sent the Free Spirit Box and said I could keep the Robert Kaufman box.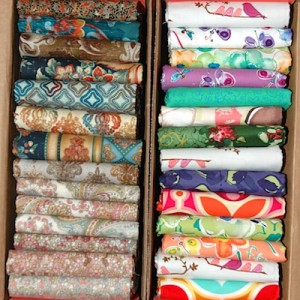 Box on left – I didn't order but got to keep in the mixup. The bright happy Free Spirit on the right is what I ordered and got in the second shipping. Only there were three one yard cuts of the same print in the Free Spirit box. Hmm. When I read the description, it seems to imply that there are 14 different one yard cuts per box.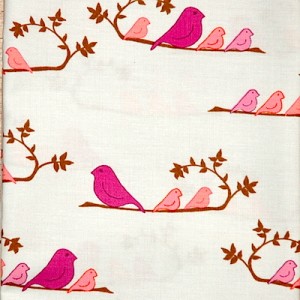 This bird print is the one I got triplicate of. It is cute and I'll use it in a baby quilt, so I'm not complaining, just saying I got 11 prints of 14 cuts. Maybe that is usual? Anyway, I was pleased with how Craftsy quickly correcting the shipping mistake. Plus they offered free shipping on my next order. I just ordered several more one yard cuts and some Auriful thread yesterday.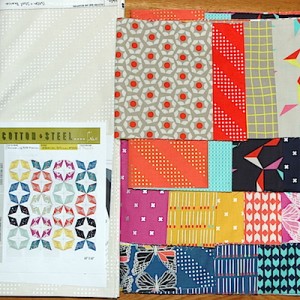 This the the Cotten + Steel kit. I love the bright colors and prints!
To-Do Tuesday List:
This week I have several baby quilts I want to FMQ and bind. And a pile of pillowcase pieces cut and ready to serge into pillowcases for ConKer Cancer.
I'm linking up to To-Do Tuesday and Linky Tuesday.
Happy Quilting!