Friday, October 31st, 2014
My Path was a bit windy this week. I just got to my Cross the Drunkard's Path Quilt Along blocks today, and now I'm not so sure my plan is going to work. I might have to do some tweaking and playing around with them to get them to feel right.
The white seems too bright to me. Maybe a gray would work better. And even tho I've shown these 4 blocks with green and blue set stones, my intention is to only use color set stones in about 1/4 of the blocks. More playing for sure, or maybe the white will grow on me?  I'm just not jumping for joy with the look right now.
Earlier this week I worked up another Curve it Up block which just happened to have Drunkard's Path units in it. See the Star Points – Drunkard's Path units!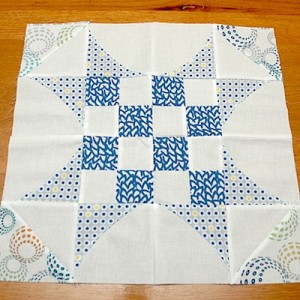 I do like the subtle kind of white to white going on in this block. See Block 1 here.
For the Demo this weekend at Fabrics and Friends Quilt Shop in Roanoke, Indiana, I will be talking about how to use Creative Grids Storm at Sea Ruler using this quilt made by Linda Ridgeway.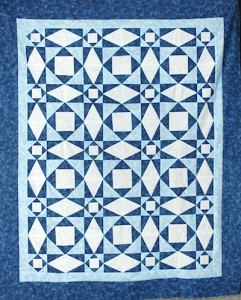 And since I like changing things up a bit and showing other uses for rulers, I also made these three blocks.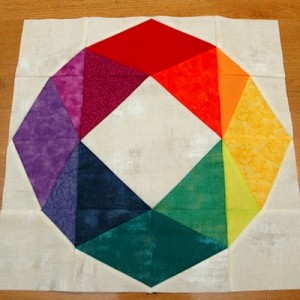 Oh I just love love love the way this color wheel turned out! I used 12 fabrics from Moda Marbles, Grunge, & Solids, and Jenny Beyer prints for the wheel and Moda Grunge for the background.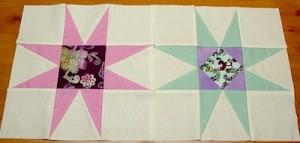 All the pieces for these blocks were cut from the Creative Grids Storm at Sea Ruler. I used the Flower Filigree line from Quilting Treasures for the star blocks.
My path lead me on a short road trip this week with Daughter #1 to visit Daughter #2. Among the day's adventures was a stop in at Crimson Tate! Heather and David are just as personable in real life as they are on their Facebook page! It was nice to meet them and chat for a bit. I could have bought one of everything in the store (if one only had the where-with-all to do so!) but settled for these two lovelies! If you are ever near Indianapolis, Indiana, stop in and visit them!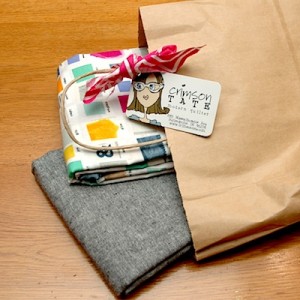 I'm linking up to Vicki's Cross the Drunkard's Path Quilt Along.