Machine applique. I like it because I can get a project/top finished pretty quickly. If the applique pieces waited for me to get to hand work, there would be along wait! This top is complete, and waiting for quilting. I just straight stitched around the leaves and blanket stitched around most of the other pieces. I build, meaning the tail and feet are appliqued in place first, then the body, next the head and arms, etc. And I change top thread color to match or coordinate with the current piece being appliqued in place.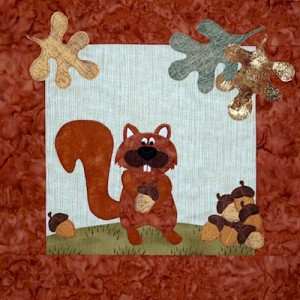 14″ square. Little bits – the acorns are about 1 1/2″
I also used the little squirrel and his acorns to embellish a tea towel. And another tea towel with just the leaves and three acorns. But, oops, forgot to take a photo before sending them off. And they turned out so cute!
Pattern: Give Thanks by Briarwood Cottage.  I altered the pattern, replaced pieced border with a solid border, and added the leaves.
Linking to Freemotion by the River Linky Tuesday.
This project was used as an applique demo for Fabrics and Friends Quilt Shoppe in Roanoke, IN USA.