Wednesday, July 9th, 2014
Fabrics and Friends Quilt Shoppe of Roanoke, IN recently received their shipment of Jaybird Quilts Sidekick Ruler and several patterns featuring the ruler. Julie Herman, the designer, has once again produced a ruler for accurate cutting and piecing. The two patterns I used are both very well written, easy to understand, and make for quick cutting and accurate piecing. The ruler gives you 3 shapes that can be cut into 4 different sizes. And it can be used as a companion ruler with Julie's popular Hex N More Ruler.
Rock Candy: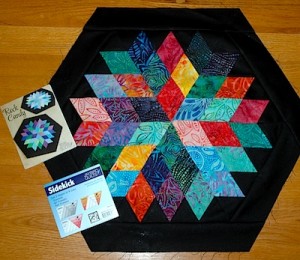 Giggles: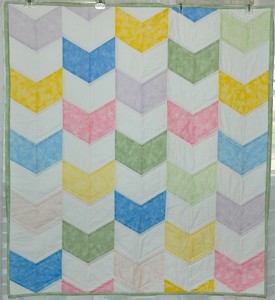 I'm taking Creative Quilting with Your Walking Foot Craftsy Class with Jacquie Gering. The Giggles quilt above is the second quilt I have finished with her walking foot techniques. Fun class! And I'm so happy to have a completed project!