Tuesday, November 2nd, 2021
It's already November! Cool weather has arrived here in NE Indiana. The weather seems to be a bit behind schedule this year. Last week was lovely in the 50s and lower 60s most days altho very rainy. Trees seem to be at their peak in Fall colors now.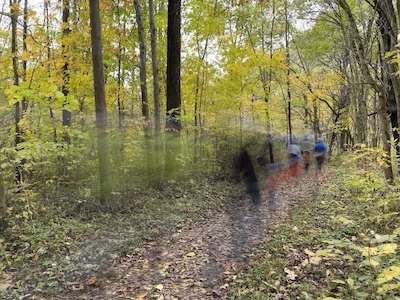 Our family met at Chain-O-Lakes State Park for a walk Saturday. It was a lovely time, mid 50s, and no rain! We walked a 3 1/2 mile trail that meandered mostly along a stream, which was high because of all the rain. The grand kids loved the foot bridges. And a certain 3 year old did his best to splash in each and every puddle!
To-Do Tuesday October 26 – November 1
1. Pumpkin hot pot pads/mug rugs  ✔️
2. Quilt block mug rug – birthday gift  ✔️
Goals were met this week!
1. Pumpkins!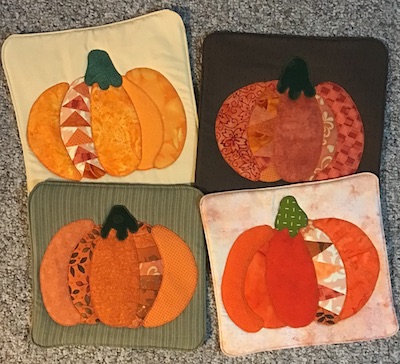 These measure approximately 9 1/2″ square. I used orange fabrics from my stash. There is just a bit of foundation piecing in each pumpkin adding interest. I Mistyfused the pumpkin parts to the background fabric and then machine blanket stitched around the parts. The pumpkins with foundation piecing are all my own design.
2. Mug Rugs!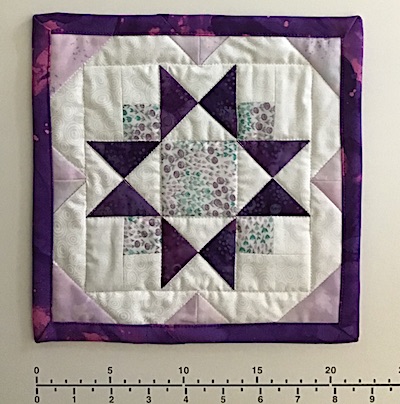 This 8 1/2″ mug rug in purples is a This & That Pattern Company design.  This & That has created a Bitty Barn Block for each month of the year. Above is November's Bitty Barn Block.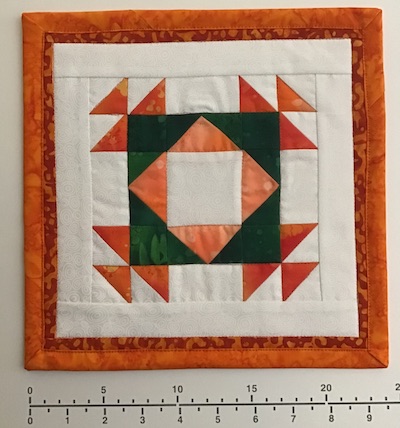 Once I finished the Mug Rug for November I got busy on a gift for December. This 9 1/2″ Bitty Barn Block is December's design. It goes to a friend whose favorite color is orange.
Although not listed, I did finish the hand stitching on I Picked a Posey design by Jennifer of elefantz.com. -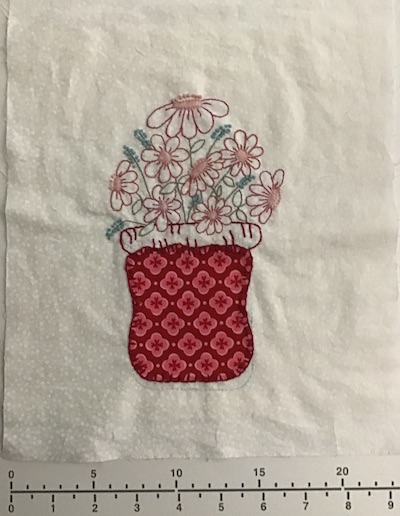 Now to figure out what to do with it! Frame in an oval hoop? Work into a quilt/quilt block? Mat & frame? The background is 9 1/2″ x 12″ and can be trimmed.
That's my successful short list for this past week!
To-Do Tuesday November 2 – 8
1. Continue working on Flying Geese at my Thursday quilting group.
2. Continue wool applique.
3. Maybe pull out a UFO to quilt.
Linking to To-Do Tuesday hosted by Linda of  Texas Quilt Gal.