This crazy Sore Throat is lingering on from Covid. Good thing, Hubs continues to test negative even though he has an ongoing cough. We are supposed to be visiting friends in Knoxville, TN this weekend, but canceled that trip. Our friends say they will come visit us later in June. That will be fantastic!
Did I get anything accomplished this past week?
To-Do Tuesday, May 17, 2022
Prepping week 13 EPP for Homage to Grandmother's Flower Garden ✔️
That might be all I get done as I don't know how I'll be feeling with this Covid virus.
but …
Work on Lesson 3 of The Next Steps Template Quilting ✗
Experiment with Terial Magic liquid stabilizer – make a pillow from a t-shirt ✗
1. The only quilting I did this week was hand stitching English Paper Pieced hexies.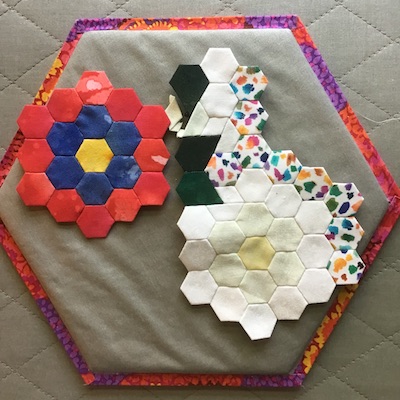 Week 13 of Homage to Grandmother's Flower Garden still needs a few stitches to be completed. Then it's ready to attach to the slowly growing quilt.
Oh! I did accomplish a few other things. I pulled out some of my Dad's shirts and started cutting them up to turn into aprons.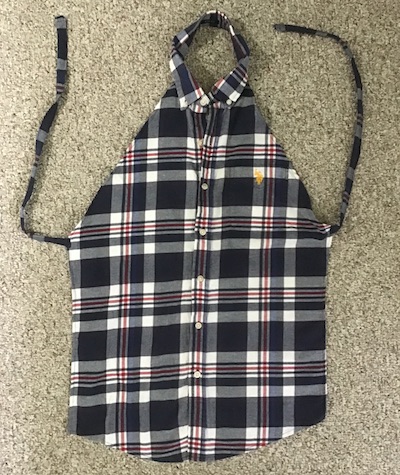 Here is the first of the aprons. Since I'm starting with medium size shirts, they will end up being aprons for Dad's 17 great grandchildren. I want my 7 year old granddaughter to try this one on, but since I had Covid this past week, family are all staying clear from me! So soon, soon we will be back to normal and family visits. I might add pockets, I'll see what granddaughter thinks once she tries it on. The oldest grands are 8 yrs old, so I think this well work for all 17 kiddos.
I also started cutting into t-shirts for a quilt for a nephew. Besides those little bits of crafting, I spent a lot of time lounging with library books and walking in our backyard.
Here's a small garden tour for you -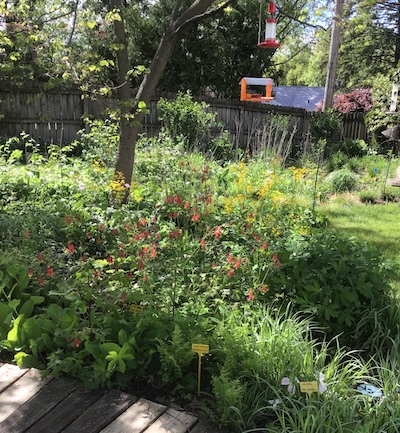 Hubs is all about native plants. Here is a woodland area. Columbine are doing well this year.
This week the cultivated Iris are opening up. Here are three of my favorites -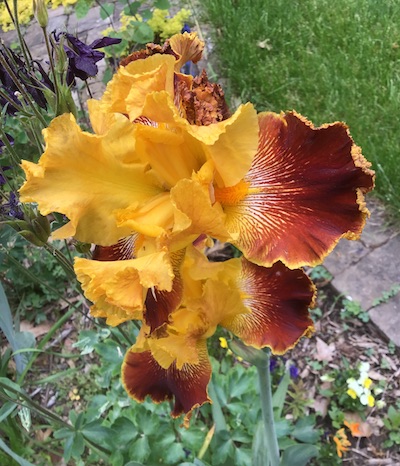 Michigan Pride
Rustler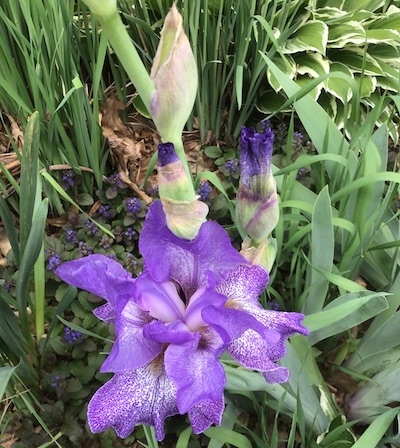 Purple Pepper
What do I hope to accomplish sewing wise this week?
To-Do Tuesday, May 24, 2022
Finish Week 13 of EPP for Homage to Grandmother's Flower Garden
Prep Week 14 EPP
Keep cutting up t-shirts. Buy the fusible I need for the quilt.
Stitch more shirts to aprons.
Get rid of this bug!
What do you have planned for this week? Take a look at To-Do Tuesday Link up hosted by Linda of Texas Quilt Gal for all the craftiness happening around the web.
Tags: To-Do Tuesday