Ugh. Allergies are so much worse this week. I've heard other people are suffering more than usual too with allergies. I love all the spring flowers blooming but this is getting ridiculous!  Sore throat started Sunday night and I woke up with out a voice Monday morning. And then a friend I was with Friday tells me she tested positive for Covid. I also tested positive this morning. So Bummed. I'm taking Mucinex per doctor's suggestion since my symptoms are rather mild. My friend and I are fully vaccinated! Maybe that helps with keeping the case mild.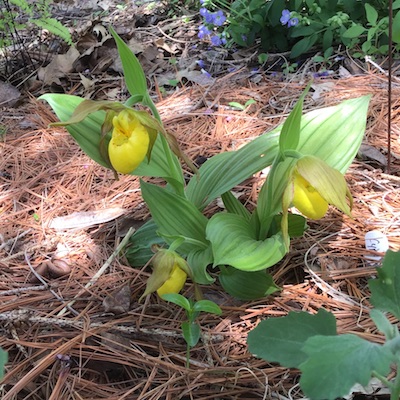 Lady Slippers blooming in our backyard. The little bit of purple is in the right upper corner is Jacob's Ladder.
Before all the headache and sore throat hit I did have a successful week of stitching and quilting.
To-Do Tuesday, May 10, 2022
Keep plugging along on the EPP.  ✔️
Finish the Minky backed baby quilt.  ✔️
Meeting with my quilting group Friday – two of us will work on memory clothing quilts for a mutual friend's family. But first we are meeting at a newly relocated quilt shop. I hear it is bigger and better. Quilts n Gifts in Bluffton, IN.  ✔️
1. English Paper Piecing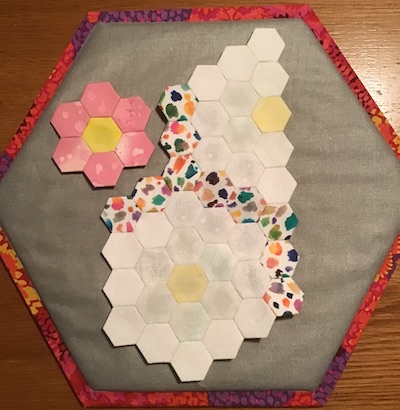 Here is week 12. No leaves this week. The leaves are a bit of a challenge for me.
And here is weeks 1-12 almost attached.
2. Baby quilt with Minky back.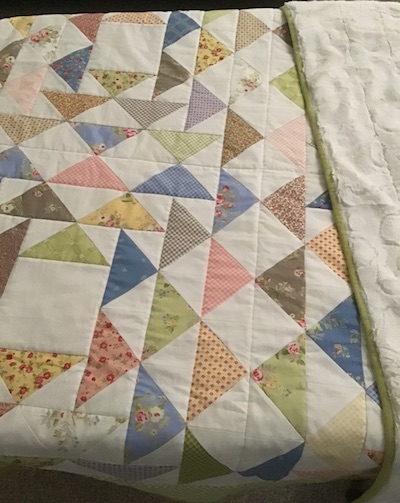 I don't know why I procrastinated so long on finishing this quilt. I didn't have any problems quilting it using a walking foot. I do like how it turned out, Stitched-in-the-Ditch. Quilting and binding this quilt was my One Monthly Goal for May.
3. Shopping and quilting with my quilting group – The new location of Quilts n Gifts in Bluffton, Indiana is bigger and better. Owner Mary has over 6000 bolts of fabric and all the goodies to go with the fabric. I bought Sew Lazy cotton fusible interfacing for the clothing quilts a friend and I are making for a grieving family. We used up all we bought and have to purchase more. I really like this product better than the Pellon I've used for other clothing & t-shirt quilts. It's more pricey but I think it is worth the extra expense as it is easier to use. When ironed with steam it stays adhered to the clothing.
To-Do Tuesday, May 17, 2022
Prepping week 13 EPP for Homage to Grandmother's Flower Garden
That might be all I get done as I don't know how I'll be feeling with this Covid virus.
but …
Work on Lesson 3 of The Next Steps Template Quilting
Experiment with Terial Magic liquid stabilizer – make a pillow from a t-shirt
Linking to To-Do Tuesday hosted by Linda of Texas Quilt Gal.
Tags: To-Do Tuesday