Tuesday, September 5th, 2017
For the August block in the Sit Down Free Motion Quilting Facebook Group, Jeanne introduced a block made with wrinkled fabric. Her method of manipulating the fabric would take a few days to complete. Being that I procrastinated, I used a product I had on hand called Texture Magic.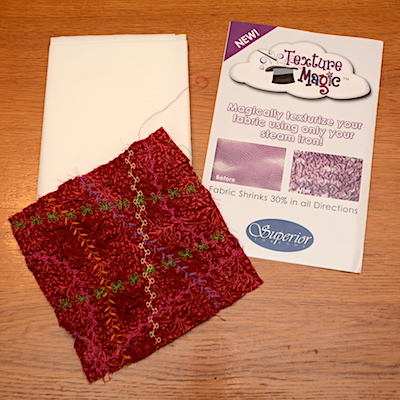 Texture Magic is a polyester fabric that shrinks with steam.  I stitched a random meander attaching the TM to the back of the cotton print I would be using in August's block. Then using my steam iron, I shot the steam out onto the fabric while holding the hot iron about an inch above the fabric.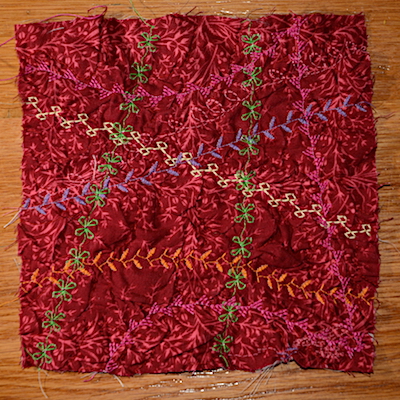 It is kind of fun to watch the fabric pucker up as the polyester shrinks. I think you can see the nice puckers and wrinkles in the piece above.
Jeanne then instructed us to use our sewing machine's decorative stitching and stitch away on the wrinkly fabric. (Sorry, I didn't think to take a picture of the fabrics with out the decorative stitching.)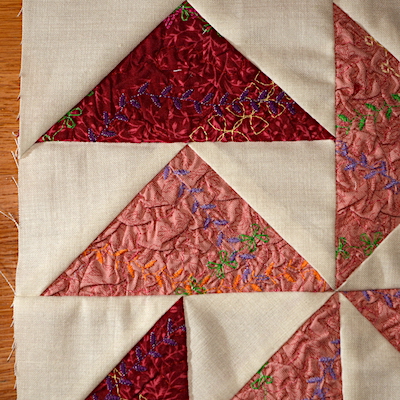 Then triangles were cut and flying geese units sewn. I do love the texture and the decorative stitching combination. Something I would have never thought of doing. But now I'm thinking up other projects to use this technique.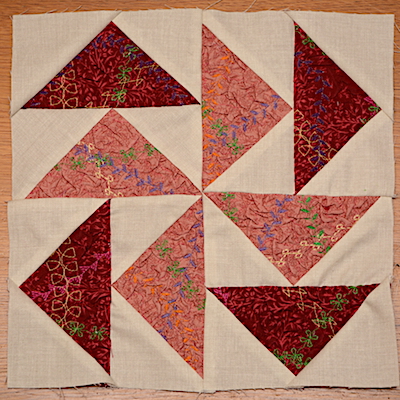 Above is the finished block. I'm so glad I finally took the time to make this wrinkly textured block!
Below are some of the yellow blocks I stitched up for the Tropical Snowball quilt.
I do like how well these curved pieces are fitting together!
Tomorrow I'm hosting my Curvy Quilters group. I'll be working on more of these units in other colors for the Tropical Snowball quilt.
What will you be working on this week?
How did I do on last week's To-Do List?
Continue quilting on friend's baby quilts. ✔️ One quilted, and second started.
Got to catch up on the Sit Down Free Motion Quilting BOM – August block. ✔️Finished!
Piecing – Tropical Snowball batik units. ✔️ Yellow units completed!
Start prepping another planned quilt top. ✗
To-Do Tuesday List for this week:
Tropical Snowball quilt!
Quilting friend's baby quilts.
Start prepping another planned quilt top.
Linking to To-Do Tuesday and Linky Tuesday.