My list of finished quilt tops needing quilting is growing.  That's a good thing, as I want to piece all the wonderful quilt tops I have planned over the years.
Here's one I bought in 2015. It was a kit that makes a 48″ square quilt top.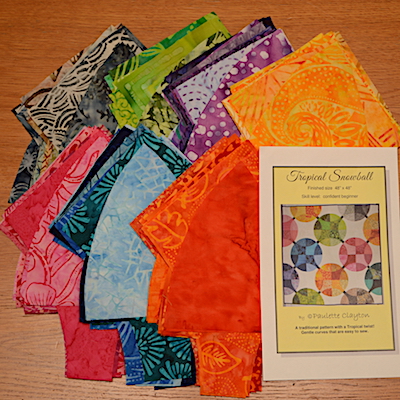 This summer my daughter & her husband bought their first home. She asked for a quilt for her family room. Looking through a few kits I had purchased, she liked this Tropical Snowball kit. But it needs to be enlarged to lap quilt size. I bought more batiks to enlarge the quilt to 72″ square. This past week I cut out all the batiks for the quilt top. Still to be cut are the white background pieces and the black set stones.
For September, my OMG is to sew together the batik units for this Tropical Snowball quilt.
If all goes well, maybe I'll even cut out the white and black pieces for the next step of piecing.
Linking to OMG. Go visit Elm Street Quilts to see what other people are setting for the One Monthly Goal.
Tags: One Monthly Goal