Monday, February 3rd, 2020
Put a Heart On It!
Here's what's up with my challenge for this week. I pulled a few fabrics and a vintage hankie with a lace edge. Next I dug through some hand-me-down quilting stencils finding several with heart motifs.
I settled on a stencil that fit nicely on the hankie.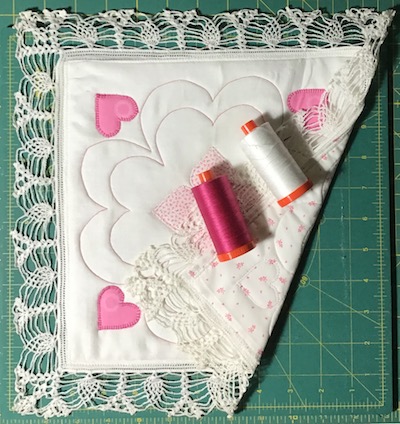 Using a Frixion pen & stencil I drew the design onto the hankie. With Misty Fuse & pink fabrics, I fused hearts on to the hankie – thus removing the Frixion pen marks for the rest of the quilt! Oops! Have you used Frixion pens for marking your quilts? The pen marks remove with heat. So think through your project first as to when to mark your quilt! After machine blanket stitching around the hearts I remarked the 'flowers' on the hankie. Then I stitched the rest of the design out with Aurifil thread, 4020. It's a simple design, but fits the challenge.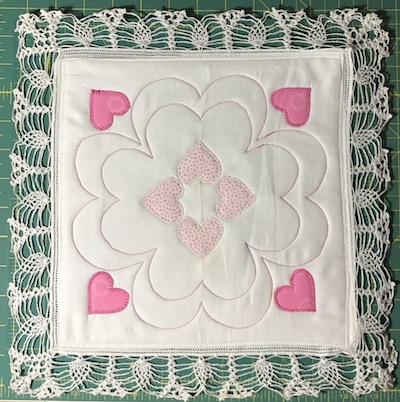 To finish the little quilt, I zigzagged stitched, using Aurifil 2021, around the outer edge of the hankie leaving the lace free flowing. The quilt with lace is 13″ square.
This will be gift for a friend celebrating her birthday, I'm taking her out for lunch Wednesday. So far for all three Season 11 challenges I have gifted the little quilts. I wonder if I'll be able to keep up this dual purpose with the rest of the challenges?
Linking to Project Quilting Season 11:3