Go Team!
For the 11:2 Team Colors Challenge I focused on a little quiltie for my friend Ruth.
Ruth is one amazing young lady full of life. Among her many interests are songs, shows and movies by Hannah Montana, cheer leading, finger nail polish, unicorns, all things pink, and a new love for coffee which is mostly milk. Ruth has Down Syndrome. So here is to Ruth and her team of loving supporters and family. Go Team Ruth!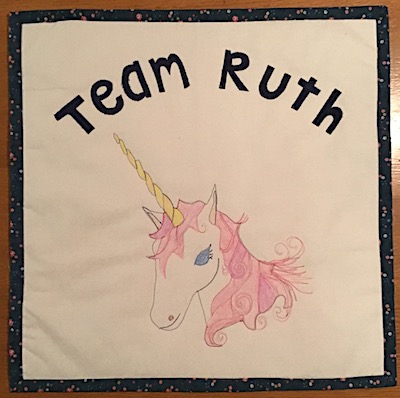 I changed up my plans from doing appliqué to using crayons to color the Unicorn. FMQing outlining, and swirls added to the mane. This little quilt is 16″ square.
This is just my second time to participate in Project Quilting, having just learned about it recently. This was another fun challenge. Thanks for hosting Kim & Trish!  Project Quilting, Season 11:2
Tags: Project Quilting