This past week I did find some time to work at piecing Bat Moon Rising.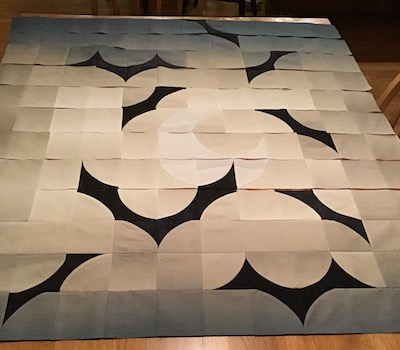 I was thinking the rows are done and ready to go together. But looking at this photo, I think I'll do some ripping and move the bat just off the left of the moon over a few squares. And then on the right of the moon all the bat tips are lined up, so I'll move one of those over more to the right. Then I might be more pleased with the placement of all these winged bats. Overall, I'm pretty pleased with this quilt. Pattern by Sew Kind of Wonderful from their book Mini Wonderful Curves. I'm making my version wider, thus the need to rearrange the bats a bit.
Project Quilting – I did jump in, participating in this past week's challenge, Team Colors. Since I'm not much for following sports I decided to honor my DS friend by making her a little quiltie – Team Ruth! using her love of pink and unicorns.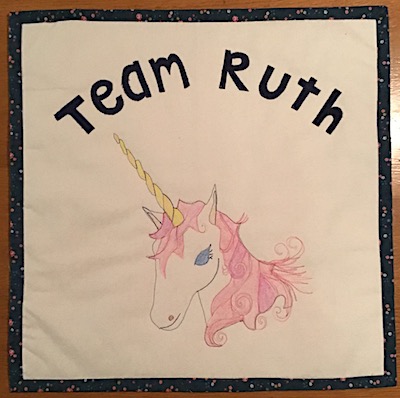 This little wall hanging measures 16″ square. The lettering is fusible appliqué. The Unicorn is colored with crayons and then machine stitched to add to the mane and outlining of the unicorn. It was a fun little project.
Last To-Do List:
Bat Moon Rising  - get back to piecing!  ✔️
Maybe play along with Project Quilting 11:2.  ✔️
To-Do List:
Continue piecing Bat Moon Rising
Select a UFO to work on
Linking to To-Do Tuesday hosted by Home Sewn by Us.