Friday, December 20th, 2013
Today is the final stop on Vicki Welsh's Real Studio Tour. We are to share photos of our spaces where we work/play/create!
My sewing set up is now in a room that my girls out grew. It is a good sized room of about 14 feet by 24 feet. It is what we call the bunk bed room because of the two sets of built in bunk beds. Fifteen years ago, while hunting for a larger house for our growing family – we have five children – a friend recommended this house to us. When we toured it, the girls named it the bunk bed house. The girls, then 3, 6, and 9 all shared the bunk bed room. Their older brothers each got their own room. I set up my sewing area in the fifth unclaimed bed room. Then the brothers grew up and went off to college and the girls decided they would like to have their own rooms. So everything got switched around and I ended up setting up shop in the bunk bed room! I like it for the space, but I really don't care much for the bunk beds as there is just so little wall space in this room. But there are also 2 built-in desks, one built-in dresser, a walk-in closet, and two side-by-side closets. So lots of space and storage to utilize.
Here are photos of it all clean and organized when I took over the space three years ago.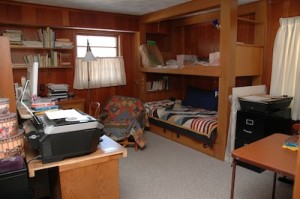 Above picture is what you see when you walk in and look to the right. The kids use the bottom bunk as a day bed and watch movies on the computer.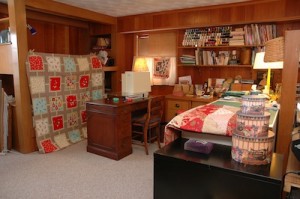 Above, is the room to the left as you walk in the door. I'm using the bunk beds as storage at this point and hang up the most recently made quilt to cover up the messy storage.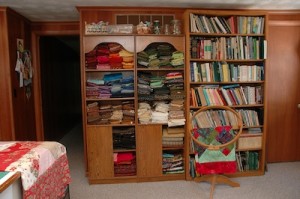 Oh look at that clean floor! I'll be showing you 'real life' in just a bit. The book shelf on the right are mostly my husbands books. In the units are the left, I organized my fabric by color. So pretty to look at!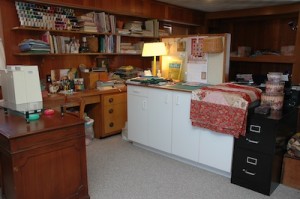 Here you see my cutting station on top of a Lowe's cabinet with lots of storage. The built in dresser is full of UFOs. Eeck! Too many of those! The book shelves are full of thread,  quilting books and supplies.
And what does this space look like today?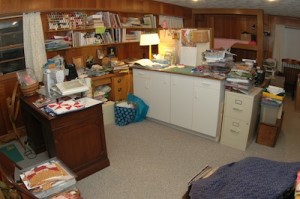 (Taken with a wide angle lens). See the blue fabric in the front right? Which is in front of the book shelves, it is covering up storage boxes, serger, UFOs, bits and pieces.  How many of my Protect-n-Store boxes do you count!? I have personal WIP in some of the boxes, and demo boxes for Fabrics and Friends Quilt Shop where I work  play.
Oh, I made new curtains for this room, which I like. And I have even done some cleaning out. Over Christmas break I hope to finish up a Block-of-the-Month for the quilt shop and also a clothing quilt for a customer. Then I hope to organize some for the start of the New Year.
For those of you who guessed at the number of Protect-n-Store boxes in my possession, the current number is 22. ☺
Hop on over to Vicki's blog to see how other quilters have their studios set up and to also add yours to the link!