Vicki is hosting a Studio Tour for bloggers to link up answering three questions over the course of three weeks – using pictures from our own studios! The first week, we are to show a non-traditional tool we use in our studio.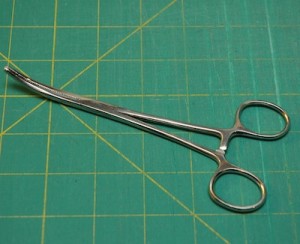 I use a hemostat for turning applique pieces and tubes right side out. They also are handy in place of a pair of twisters. For example – dislodging thread stuck in the bobbin case. And they are good for pushing out the corners of projects like pillow cases. I keep a pair handy right next to my sewing machine. This curved tipped hemostat in the picture is actually my 'stand in' pair, as I have misplaced my favorite straight tipped hemostat in the current clutter of my studio. (Yes, I'll reveal that creative mess to you December 20th!)
To join in the fun, visit Vicki's blog post: The REAL Studio Tour!
Tags: Non-traditional quilting tool, The REAL Studio Tour with Vicki Welsh