Tuesday, June 1st, 2010
While at the International Quilt Festival, back in April, I was able to take one of the Make It University! Workshops. These classes are offered by Cloth Paper Scissors and are held on the main floor in the vendors area, you win a seat in the classes by lottery. I put my name in the pot for two, but only made it in to one – Leilani Pierson's Small Stitch Flower Book. This was a flower pounding project. And did we ever pound! Noisy! So much noise that one of the ladies in the demo area came over to complain! One class participant had her thinking cap on and suggested we move down to the carpet to pound! We all did and the sound was muffled. Happy us, happy demo people! Leilani was so impressed that all her students just got down on our hands and knees and continued to work on our books. Leilani is a very sweet lady and great teacher!  Thanks for the fun class Leilani! I love my little booklet!
Here are pictures of my finished Flower Book: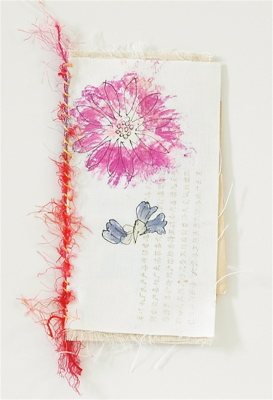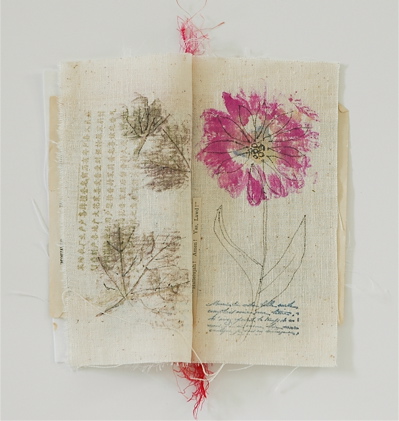 Once I got home from the  quilt show, I looked up blogs of some of the people I met. Leilani had hosted a 'follow me blind' challenge back in January. I decided to not look at those posts, but to save them for later when I could do the challenge. In May, I followed her instructions doing one step a day for three days – here are the results. (If you want to do the challenge yourself – don't look at mine – go to this link instead!)
Day 1: Make a little rectangle quiltlet.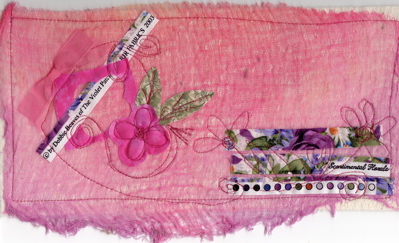 Day 2: Fold the rectangle in half and stitch ends together. (Day 3, I decided this was the front.)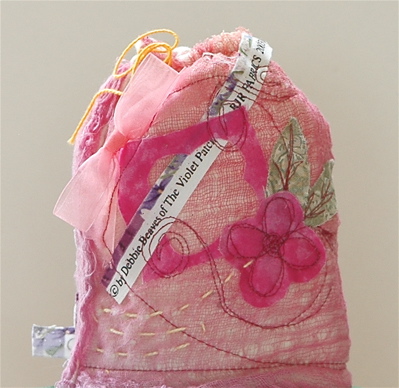 And this is the back.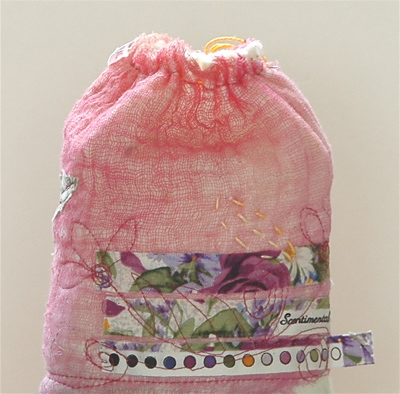 Day 3: Involved bending wire. Which I decided to embellish. I didn't have any thin wire, so Hubby helped to bend the shape for me.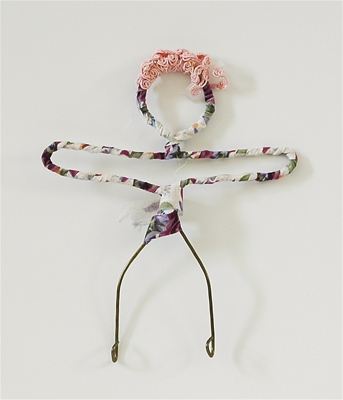 Put it all together and you get this: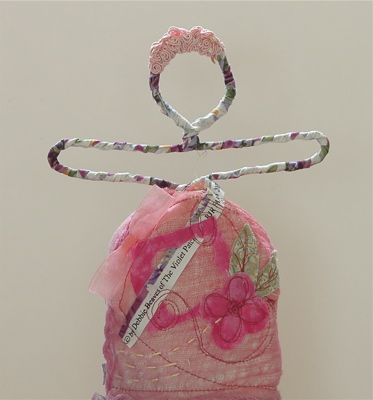 Thanks for the fun challenge Leilani!
I did lots of looking at vendor booths while at the quilt show and bought a few things. I also hung out at the demo area and got to meet several artists published in Cloth Paper Scissors and Quilting Arts Magazines. Talking with these gals and seeing their work up close was great!  Kelli Nina Perkins gifted me with one of her cloth-paper book marks (thanks again Kelli!)
The first booth I went to was the Misty Fuse booth, I pulled along several friends to that booth and told them how much I love that stuff! I bought a Goddess Sheet and was given a few samples for bringing along my friends! They did make purchases and the Misty Fuse Gal (sorry, I don't remember her name ) said what a great start to her day because of us! Doors opened at 10:00 and we had made our Misty Fuse purchases by 10:20!  I also bought some dyed cheese cloth from Embellishment Village. What a fun booth! And used a pink piece in the above Follow Me Blind challenge.
This was my first Quilt Festival to attend in Chicago, altho I have wanted to go for years! Our local quilt shop, Pieced Together, hosted a bus trip. What a fun way to travel with a bus full of quilting ladies! It's funny because once there, I found out the festival is planning to move to Cincinnati next year! I hope to go to next year too, as I live right in between Chicago and Cincinnati in Indiana!