Wednesday, February 18th, 2015
This week I have attempted to sew up three different projects using the BasiX Template for using 2 1/2″ strips. Aren't these just so cute?
The blocks pictured below are from one of two patterns that come with the template. I was going to make three blocks for a table runner, but ran out of the cream fabric. And wouldn't you know it, I go to the quilt shop and that bolt is gone. Fortunately, they do re-order Moda Solids, I'll have to be patient and wait.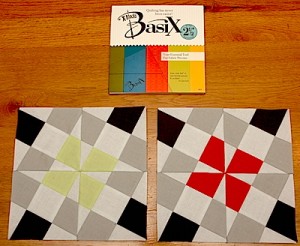 This next design is also included with the template. I chose to make a table runner using strips from Moda's Rustic Weave Jelly Roll.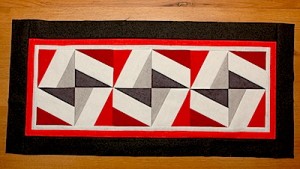 The next pattern is called Twinkle Toes. I used the same Moda Rustic Weave Jelly Roll for the blocks, adding a white dot on black for the pinwheels and a solid white for the background. I love it! It is so bright and cheery. Still needs an outer border which I'll find fabric for during my next trip to the LQS. But, I must say, I had a dickens of a time with the pattern. Seems the yardage is wrong as well as dimensions in some of the steps. I went to the Quilt Queen Designs website (xblocks.com) to see if they list corrections for patterns, and although I did find one correction for another pattern, I couldn't find any corrections for Twinkles Toes.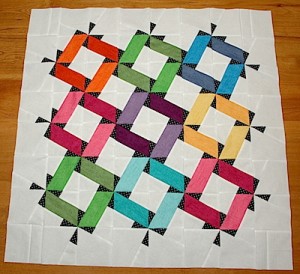 Do you ever find mistakes in patterns and then check out the designer's website to see if corrections are listed?  I do, and am always happy when I find they do have a corrections page.
I'll be demoing X-Blocks and BasiX templates this Saturday at Fabrics and Friends Quilt Shoppe in Roanoke, IN from 10-3.
Update! I just revisited xblocks.com and there IS a revision for Twinkle Toes dated 2-16-15.  I'm glad to know I'm not crazy, and they do post corrections!
I'm linking to Connie's Linky Tuesday.