Tuesday, February 2nd, 2021
Complications kept me from shopping this past week. Hopefully I'll make it out the door today to LQS. I also need to drop off my machine for a tune up and cleaning.
I'm taking part in the Project Quilting Season 12 Challenge. This Sunday the third challenge was announced. Virtual Vacation.
My family and I have been talking about doing a trip up to Northern Michigan – visiting light houses along Lake Michigan coast line, Sleeping Bear Dunes, and Traverse City Botanical Gardens. The Gardens are of interest because I learned they have a Fairy Trail there. My granddaughter is at the age where she is all about fairies.
For PQ 12.3 Virtual Vacation Challenge I made a Fairy Pillow for my granddaughter.
Here is the backside of stitching completed for the pillow.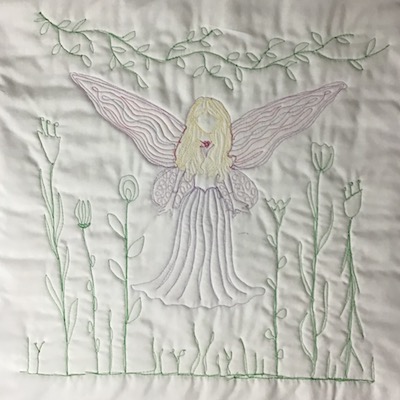 And the front -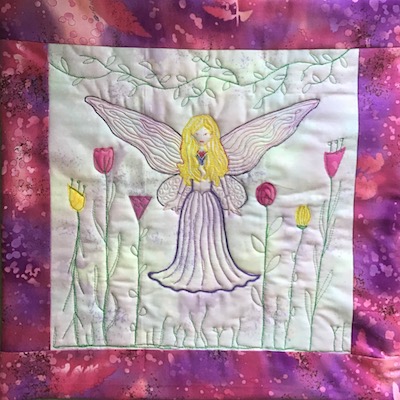 I traced a coloring page for the fairy then stitched over the lines, filled in her wings. I added fused & stitched flowers and vine for her to be in a pretty garden.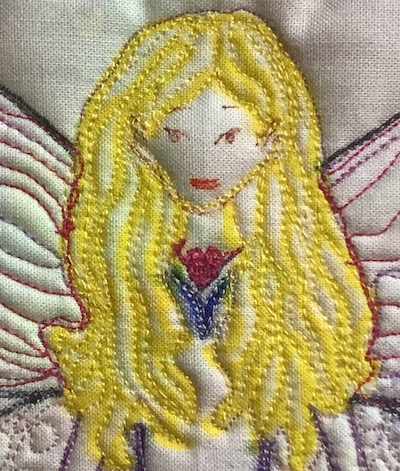 Close up of our charming little fairy.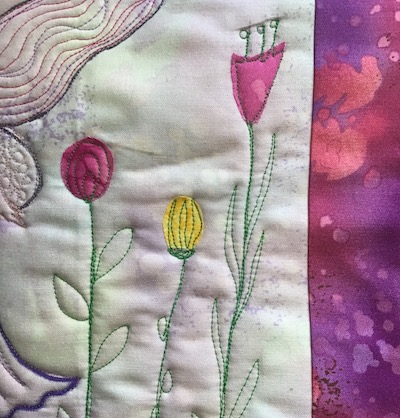 Close up of free form flowers.
Pinks and purples are granddaughter's favorite colors right now so pink & purple it is for this 16″ pillow. All stitching is with Aurifil 50# threads. The Fossil Fern fabrics are left over from a quilt I made for her bed.
I bombed on my To-Do list. Hopefully this week will be much better.
Last Week's To-Do List:
Shop for fabric?  ✗ Change of weather brought on three days of migraine suffering. Snow was lovely!
Start layout and stitching Clam Shells in place  ✗  decided to make one more row of clam shells
This Week's To-Do List:
Make more Clam Shells
Since Janome is in for a cleaning, I'll dig out the old Bernina and see how she is doing.
Linking to To-Do Tuesday and Project Quilting.