Happy July everyone!
We had more high winds & thunderstorms passing through our way Tuesday & Wednesday.  We lost power again, this time for 14 hours. I must say I am very thankful for modern conveniences!
Here's my list of hopeful quilting for last week -
To-Do Tuesday, June 28, 2022
Homage to Grandmother's Flower Garden, work on week 17. ✔️
4 clothing quilts – Friday meeting with another friend to add the embroidery.  ✔️
Shirts to aprons from my Dad's shirt for my grand nieces and nephews.  ✔️
Maybe get back to the whole cloth table runner.  ✗
Here we go -
1. Grandmother's Flower Garden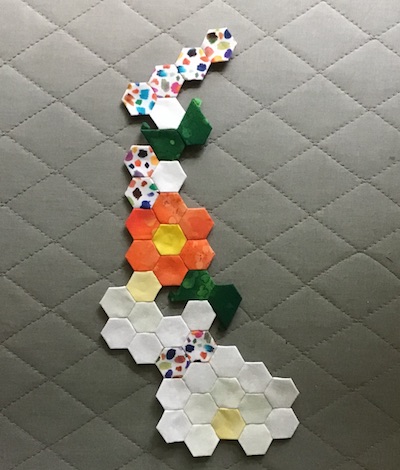 Week 17, missing the background to the green leaves.
2. Four clothing quilts - embroidery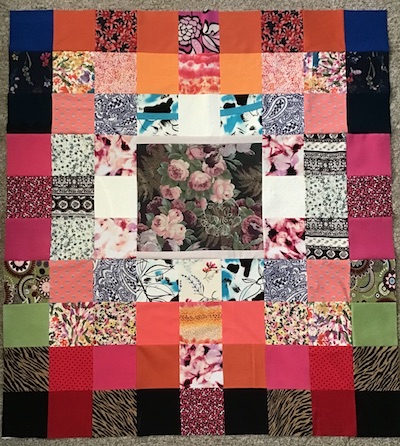 As requested, four identical quilt tops have been made from clothing and with the rose fabric center from pillow cases.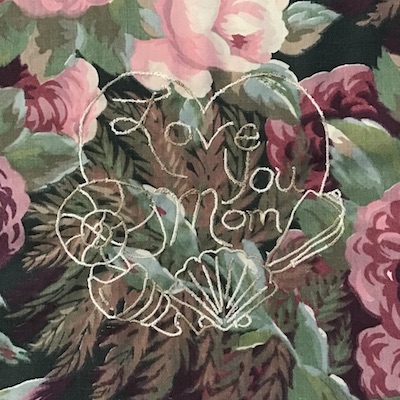 Then this embroidery was created by a friend who bought the new M17 Janome. The Mom represented by the clothing loved the beach, shells, sunsets. With help, this heart with Love you Mom with shells was stitched on to the rose fabric. I'm happy with the progress made on these four quilts this past week.
Also, my friend and I bought fabric for the quilt backs. A beach scene was requested. We won't be getting to piecing the backs until later this month.
3. Shirts to aprons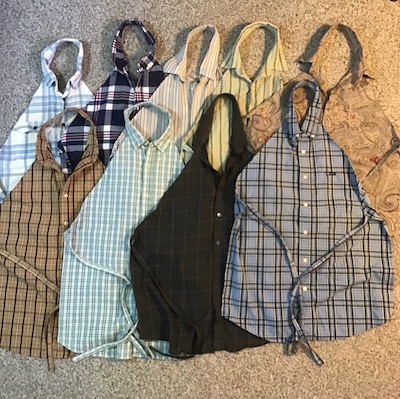 I've made child size aprons from my Dad's shirts. They will go to his 17 Great Grandchildren!
4. Whole cloth table runner – didn't touch it.
What's up for this coming week?
To-Do Tuesday, July 5, 2022
Finish week 17 of Homage to Grandmother's Flower Garden. And start attaching it to the growing quilt.
Time to get serious about prepping t-shirts for a quilt for my nephew. That was my June One Monthly Goal and it did not happen!
Play with something – maybe a UFO – maybe the whole cloth table runner.
Linking to To-Do Tuesday hosted by Linda of Texas Quilt Gal.