Clothing being cut into squares and aprons.  It seems that is just about all I'm working on lately. I'm happy to report that the four clothing quilts are finally taking shape.
Before I share those, let's see what else happened this past week.
To-Do Tuesday, June 21, 2022
Finish Week 16 of Homage to Grandmother's Flower Garden, and start Week 17. ✔️
Finish quilting and bind whole cloth table runner. ✗
Friday meeting with a friend to make headway on the 4 clothing quilts.  ✔️
Back to shirts to aprons from Dad's shirts.  ✗
First off, I didn't get as much accomplished as I would have liked because I came down with a bad headache last Tuesday night and it worked it's way into a full fledged migraine. I really have no idea what brings them on. I've blessedly had so few this year, so this one took me by surprise.  After recovering from that, I did get busy.
1. Homage to Grandmother's Flower Garden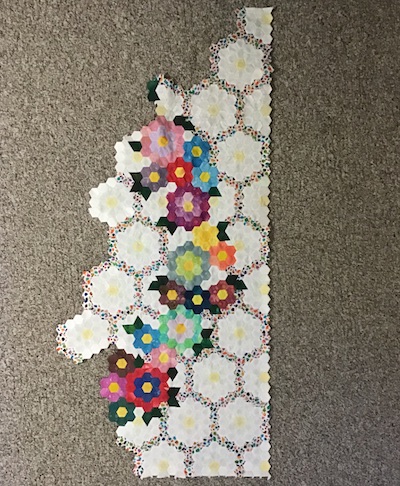 Week one – sixteen all stitched together. Week 16 was all but finished so I did get it attached to the growing quilt.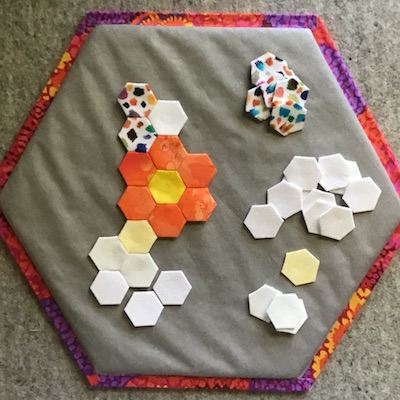 Week Seventeen coming together.
2. Whole cloth table runner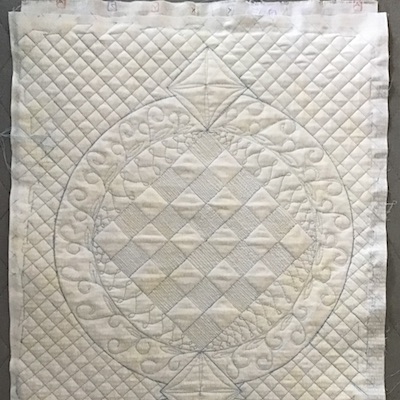 I did some playing yesterday on the table runner. I decided I wanted to quilt in the background and am attempting a half inch grid. Slow going! Not perfect, ripping out did happen.
3.  Four clothing quilts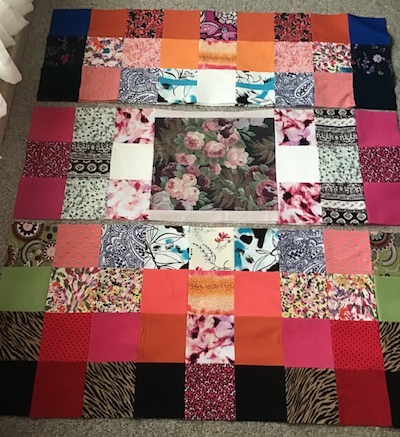 This is the big project that I want completed! Friday my friend and I met up to work on the four quilts for a grieving family. Their mother had passed and we were asked to make quilts from her clothes. One request from the family was for all the quilts to be identical. That meant cutting squares from all the clothing divisible by 4. Here is what we came up with after measuring and figuring out the largest squares we could use was 6 1/2″ cut, 6″ finished.
As is, the quilts will measure 54″ x 60″ which I think is fine for a memorial quilt. That is being debated as my friend wants to add a border using a sea shell print if one can be found. Another request from the family was for the back to have a sunset or sea shore panel on the back because the mother loved the beach and sea shells. I'm just thrilled to have the four quilts to this stage. Shopping has to happen for the back, and an embroidery is planned for the large rose print center.
4. Aprons
Working on them today! Photo next week.
And this week I plan -
Homage to Grandmother's Flower Garden, work on week 17.
4 clothing quilts – Friday meeting with another friend to add the embroidery.
Shirts to aprons from my Dad's shirt for my grand nieces and nephews.
Maybe get back to the whole cloth table runner.
Linking to To-Do Tuesday hosted by Linda of Texas Quilt Gal.
Tags: To-Do Tuesday