October 15-25 my hubs and I traveled east to visit family. My father lives in a retirement community in PA. Due to all the Covid19 restrictions we held off our trip east until we could see Dad. We scheduled two 30 minute visits, 6′ social distancing wearing masks, the distance ended up to be 11′ apart! Dad could not hear us! An aid sat by Dad's shoulder and repeated everything we said. It was crazy, but I'm thankful I got to see him. While out east, we caught up with our brothers & sisters and their families who live in the area. Besides Dad not being able to hear us, it was a great trip.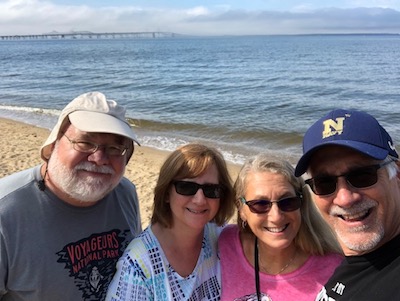 Terrapin Park, Kent Island, Chesapeake Bay. Hub John, me, sister Lauren, BIL Russ. Bay Bridge in back ground.
My Journey 2 Nebula continues.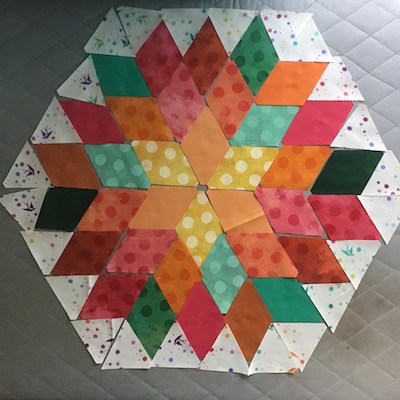 Project 4 on the journey, Rock Candy layout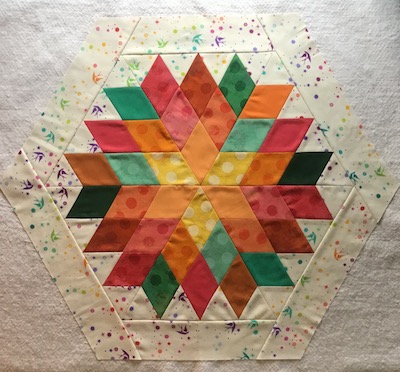 Rock Candy pieced & sandwiched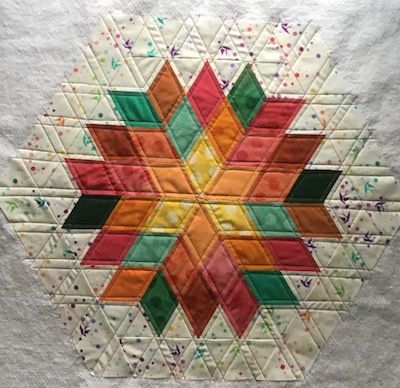 Rock Candy quilted. I'll use a rust fabric for the binding.
Last To-Do List:
Cut pieces for project 4, Rock Candy in #Journey2Nebula. ✔️ Cut, sewn, pieced and quilted. Ready to bind.
Sandwich baby quilt. ✔️ But it will be set aside for a while as plan has changed.
Short week for sewing, hubs and I are doing some traveling the next two weeks.  Hand embroidery just might happen.
This Week's To-Do List:
Bind Rock Candy, project 4 of #Journey2Nebula
Cut pieces for project 5, Candy Dish in #Journey2Nebula
Start quilting center of quilt or appliqué background (the quilt for my son & DIL)
Linking to To-Do Tuesday hosted by Home Sewn by Us.
Tags: #journey2nebula