Jawbreaker is quilted and bound. I used a stencil to mark the quilt design. Then stitched using a free motion foot to stitch over the marked lines, next echoed the design.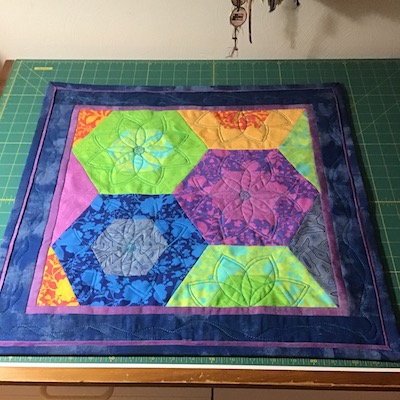 I stitched a simple ribbon design in the outer border. For binding I used the flange technique to add a pop of purple between the blue binding and border. This quilted table topper measures 21  1/2″ square. Quilted with Superior Threads King Tut DeNile Variegated thread Color # 927. This was project three in Julie Herman's Journey 2 Nebula quilt along.
I started a new project. Which is a repeat baby quilt I made earlier this year. I bought 2 Geo Zoo panels when a LQS sadly went out of business. I didn't have plans for them at the time, but 2 family members have since announced babies on the way. One panel baby quilt has already gone to the new little fellow. And this second one will be going to baby due in February 2021.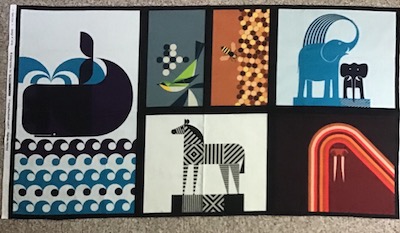 To make the top, I cut the elephants and walrus off the right side of the panel and stitched them on to the bottom below the whale and zebra, making the panel long and narrow rather than short and wide.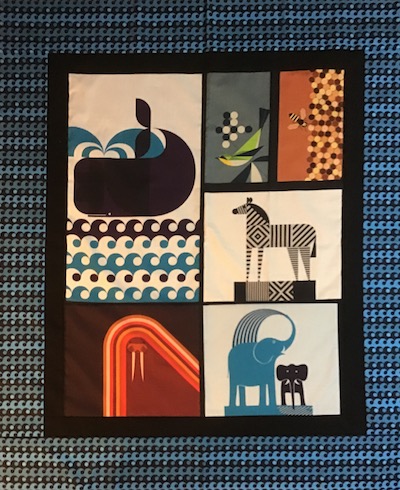 Then I added a 2″ black border and 6″ wave print as an outer border. The back is also pieced and ready to sandwich.
For the appliqué quilt, I have decided to do the 9 sections of the quilt in the quilt-as-you-go method. I have the center section pieced, and the two sides appliquéd.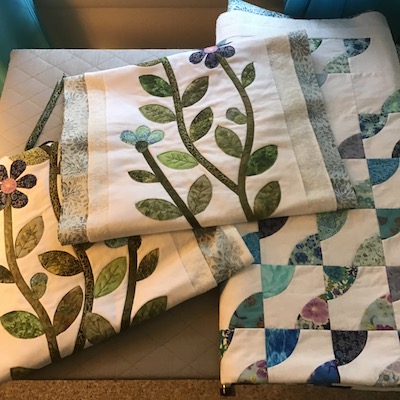 This past week I sandwiched those three sections so they are ready to quilt. They will be joined together once quilted.
Last Week's To-Do List:
Sew Jawbreaker into a pillow case, project 3 in #Journey2Nebula.  ✔️ Completed, but decided to go with a table topper instead of a pillow.
Baby quilt! ✔️ Top & Back pieced!
If there's time, figure out next step in appliqué. ✔️Sandwich the three completed pieced & appliqué sections.
This Week's To-Do List:
Cut pieces for project 4, Rock Candy in #Journey2Nebula.
Sandwich baby quilt.
Short week for sewing, hubs and I are doing some traveling the next two weeks.  Hand embroidery just might happen.
Linking to To-Do Tuesday hosted by Home Sewn by Us.
Tags: Journey 2 Nebula