Wow! Stitching the appliqué flowers in place didn't take as long as I thought it would.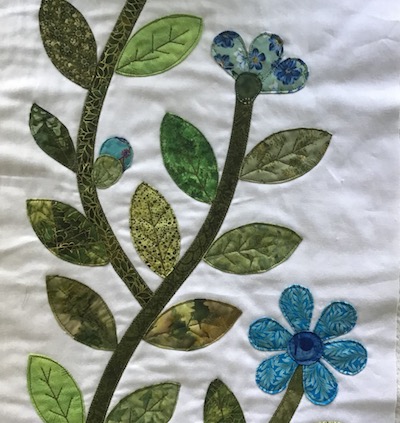 3 petal flower, bud, and six petal flower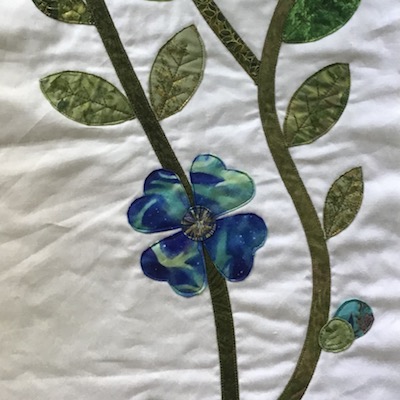 4 heart shaped petal flower, bud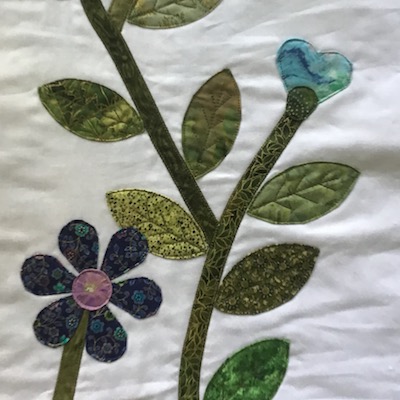 Heart shaped bud, 6 petal flower. There are 20 flowers appliquéd in place in a mix of shapes and sizes show in photos above.
Next up was sewing strips and cutting triangles for the Jawbreaker pillow.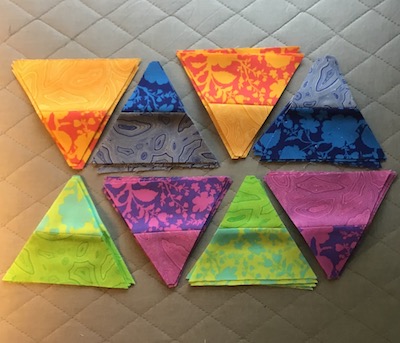 Jawbreaker is a Jaybird Quilts pattern, fabric is Tula Pink's True Colors.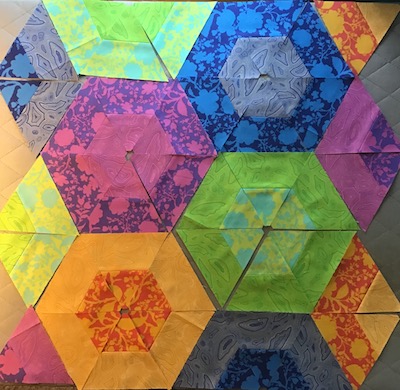 Playing with lay out. This week it will be sewn into a 20″ pillow top.
Granddaughter time!
I had broken up the Pocket Organizer sewing into 3 lessons. But she just didn't want to stop sewing when she came over this week.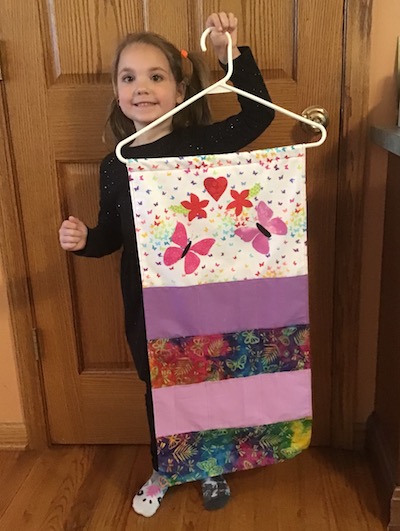 We got the 12 pockets stitched, and the back sewn on which in my mind was lesson 2. Then she moved on to the appliqué pieces which was lesson 3. She traced the butterflies and heart from templates on to fabric with Misty Fuse attached to the back. After cutting the shapes out, they were pressed in place. Directions say to outline appliqué pieces with glitter glue. It went to her house for that step. Finished pocket organizer sewn on to a hanger and ready for use!
Another new project has creeped in. A nephew and his wife have announced they are expecting their first baby. Time to make a baby quilt. I'll use Geo Zoo panel by Robert Kaufman. I hope it goes together easily so I can drop it off to them later this month.
Last Week's To-Do List:
Stitch appliqué flowers in place. ✔️ This step went much quicker than I thought it would!
Prep Jawbreaker third project in #Journey2Nebula. ✔️ Ready for sewing.
Lesson 2 with granddaughter, Pocket Organizer. ✔️ Lesson 2 & 3, the organizer is finished and super cute!
This Week's To-Do List:
Sew Jawbreaker into a pillow case, project 3 in #Journey2Nebula.
Baby quilt!
If there's time, figure out next step in appliqué.
Linking to To-Do Tuesday hosted by Home Sewn by Us.
Tags: #journey2nebula