The Curve It Up quilt I pieced, I believe back in 2015 is now all quilted! That means I did meet my OMG for May!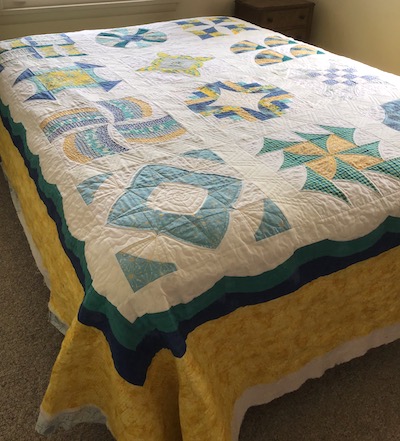 Here it is on a queen size bed, in a very sparse bedroom. My youngest moved out the beginning of March. This room is in transition to be a guest room. For close up of blocks go here, and here.
For the quilting in the large 12″ wide outer yellow border, I went with following the quilting lines of the inner turquoise border. Circles were added for more interest. Next I planned to match stick quilt out to the edge of the quilt top.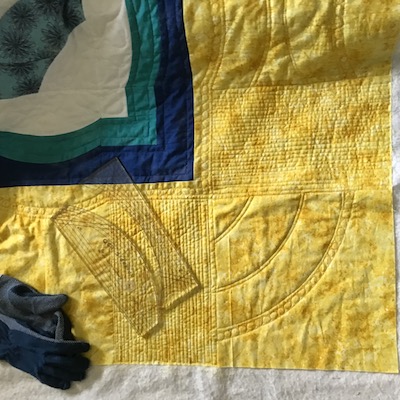 I started match stitch quilting on one corner.  That is 7″ worth on both sides. That is slow going! And I quickly decided I needed a new plan!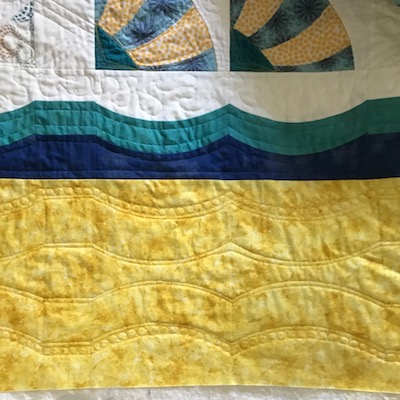 New idea – do another set of lines following the turquoise border, and then mirror them adding the circles in the outer set of lines.
Next – what to do at the corners?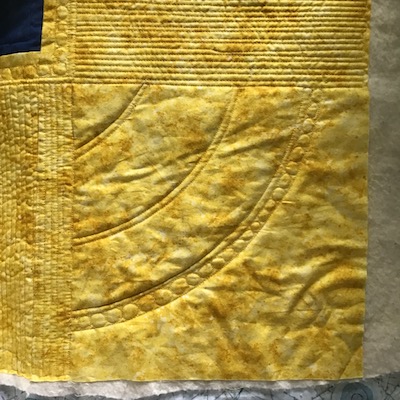 Following the lines on either side of the match stick quilting, I quilted the curves and added one row of circles. My daughter, mentioned above, visited yesterday and she said the corners looks like the sun. I'll go with that! Especially since this is such a bright quilt with white, blue, turquoise and yellow!
Next decision was how to  quilt the corners of the top border as it is narrower at just 6″ wide.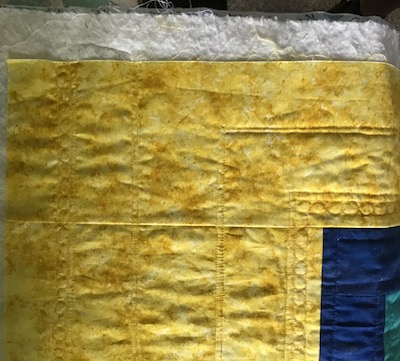 Instead of curves this time, the first two sets of straight lines meet and continue around the quilt. The next two sets I just quilted to the edge of the quilt.
This quilt is a Sew Kind of Wonderful Pattern called Curve It Up, and uses their Quick Curve Ruler for cutting pieces. I used their quilting rulers QCR Sidekick for the curved and straight quilting lines. That pattern makes a 68″ x 86″ quilt, but with the wide yellow borders added at 12″ on three sides and 6″ wide on the top, the quilt is 92″ x 104″. Thread for quilting – Superior Threads King Tut 40 weight – #1031 Edwardian Blue, #927 De Nile Variegated Aqua, #985 Shekels Variegated Yellow, Aurifil 50 weight #2021 Natural White. Aurifil #2021 in bobbin.
The fabric I want to use for the binding is the dark blue Moda Grunge that is used in the second border. My LQS is out of that Grunge! It is ordered, and should arrive late June. I'll have to be patient and wait for the fabric to finish up this quilt with a nice binding!
Linking to One Monthly Goal hosted by Patty of Elm Street Quilts. Thank you Patty for hosting!
Tags: One Monthly Goal