This week I continued to have problems with tension every time I changed the bobbin. After doing all the regular stuff, like cleaning – there wasn't much lint, rethreading machine, oiling, checking tension top and bottom, I decided to do some internet searches on the problem. I found a few helpful videos. But some contradicted others. Hmmmm. What I decided was to retest the bobbin case tension and go with the video that showed a tighter bobbin case. You know the test where the bobbin in the case is laying in your hand? When you pull up on the thread the bobbin case should sit up in your hand but not lift off it? I went with that. Another video shows it lifting up while thread is unwinding easily. Which is right? The tighter tension seemed to work for a while.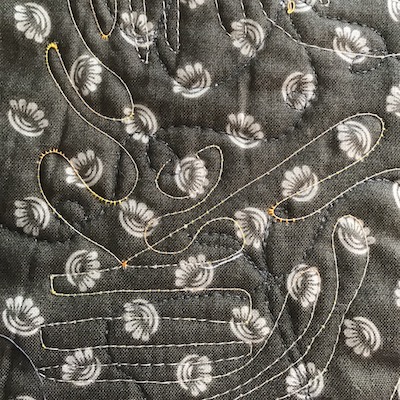 Sample piece testing tension.
Next I again went to the top tension – some where in my manual it states that 185 is the standard setting. Turning the tension knob in quarter and half turns, it finally seemed to sew smoothly when it reached 295. That was, it worked well until the next bobbin change! Fiddling again, it is now set at 330 and is working well. Is there something wrong with the tension spring that I have to keep tightening the tension up? It might be time to call the dealer and have her walk me through resetting the top tension which involves taking it all apart! That is a suggestion in the manual! Reset tension but only with your dealer walking you through the steps!
All that said, I did not get the final yellow border of Curve It Up finished. Progress was made though.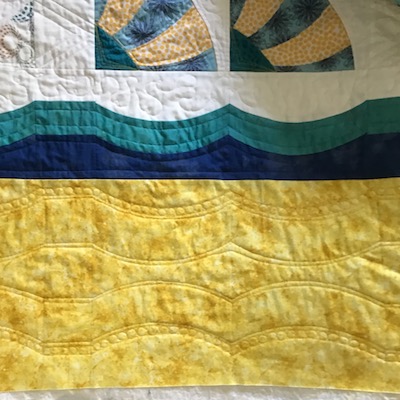 One side is completed. I'm not even sure I like it, but it is staying as is.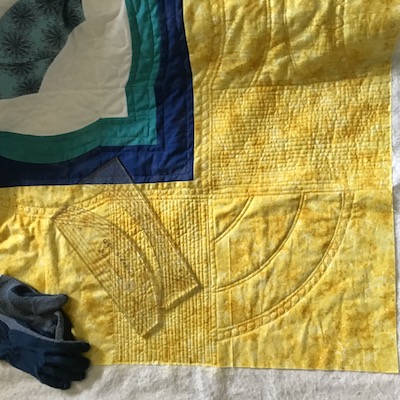 Here is one of the corners at the bottom of the quilt. At first, I thought I'd do match stick quilting from the double lines with the circles in between, match stick to the edges, but boy was that taking a long time! So I switched to repeating the lines in the turquoise and blue borders. The match stick quilting will stay and I'll repeat it at the opposite corner.
The top border is not as wide as the rest, so that will mean a different quilting design.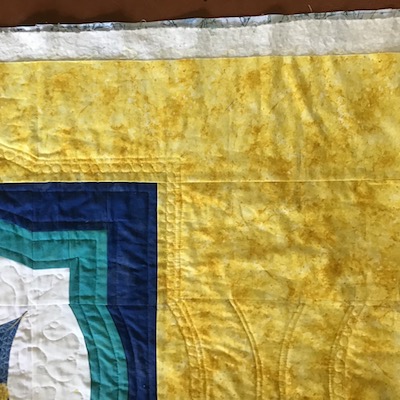 Time for some decision making.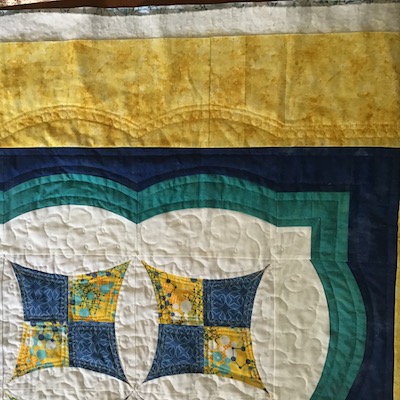 The lines with the circles in them, then echoed once, has been quilting on all 4 sides. Hopefully with no more tension problems, I'll get this last border completed this week, actually by May 31st as finishing the quilting was my One Monthly Goal for May!
Last To-Do List:
Finish yellow border on Curve It Up quilt ✗ Progress was made!
Shop again for background and backs – baby quilts in progress.  ✗ I'll shop after I finish quilting Curve It Up. 
This Week's To-Do List:
Finish Curve It Up yellow border! Please no tension issues!
Linking to To-Do Tuesday hosted by Home Sewn by Us.