First up for this week was deciding on designs for the borders for Curve It Up.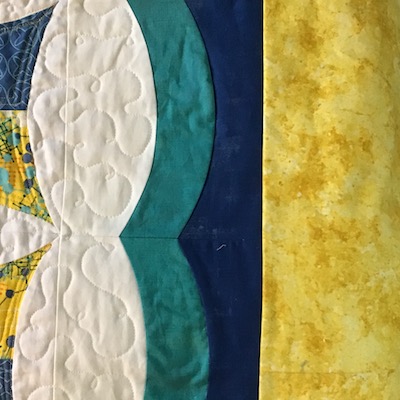 The borders according to the Curve it Up pattern by Sew Kind of Wonderful ended with the blue border above. Borders being the white, turquoise, and blue. My sister in law wanted a larger quilt, so she selected the yellow for a wide final border to make a queen size quilt.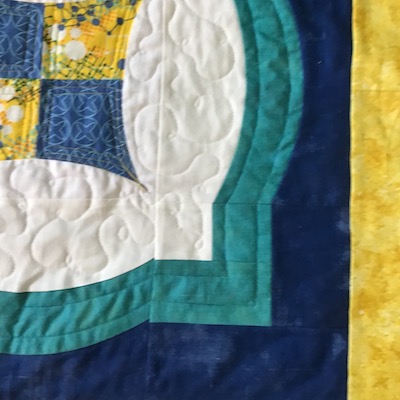 I did a simple echo of the curves for the turquoise border.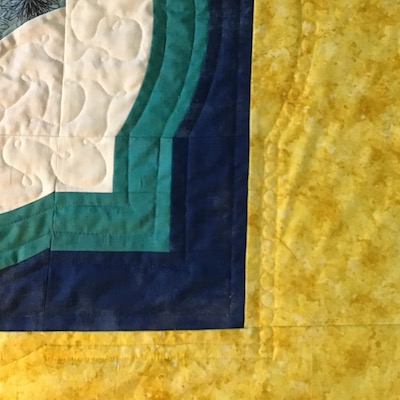 For the blue border I continued following the lines of the seams. And then in the yellow border I repeated the curves in the two inner borders. I was adding pebbles/circles in-between the two lines of stitching when the bobbin ran out. On changing the bobbin the tension went all crazy. After much fiddling with the tension & rethreading everything, I had to walk away. I'll get back at it later today. As of now, I plan to repeat the curves one more time, and then do matchstick quilting out to the edge. Those plans may change!
My Flower Power quilt is all bound and ready to display!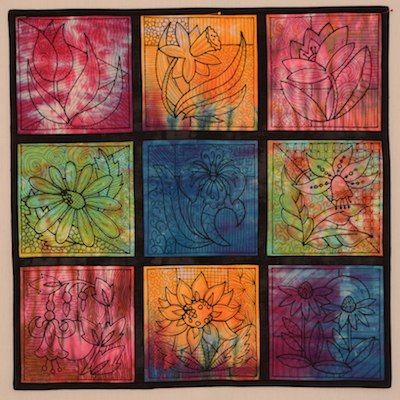 This was a free quilt-a-long hosted by Helen Godden. I used hand dyed fabric from Colorways by Vicki Welch. The sashing, back and binding are Moda. The quilt measures 25″ square. Black thread, Aurifil – until I ran out, then I switched to what I had on hand, an old Guttermann, and then Mettler. Having used all three brands on the same project, I can say Aurifil gets my vote. The others create way too much lint.
It's allergy season here in the Midwest. Poor old me, and two of my children suffer greatly at this time. While having a sleepless night, I dug through some fabric looking for something to go with some embroidery blocks I had been working on. I pulled out a Moda precut – 10″ triangles they call Slice. What I didn't know at the time was there was a pattern included with the pack of 48-10″ solids. The pattern is called Splash, and I thought would be perfect for my nephew's baby boy. But I'll make some alterations.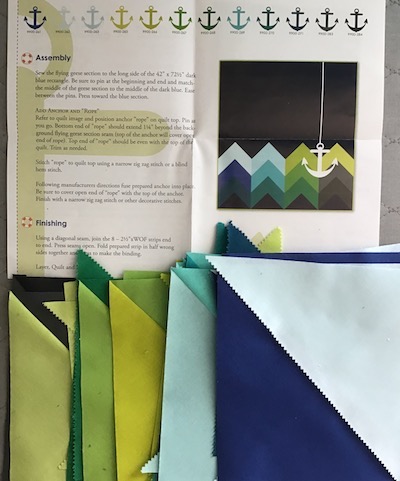 The pattern makes a 72″ x 78″ quilt. I figured if I cut the triangles in half, I will have a 48″ wide quilt and enough triangles for two baby quilts. The flying geese blocks are constructed for the two quilts, and waiting for the background fabric to complete them. Time to shop!
While digging in my fabric, I also found 2 more Moda Slice packs, but they did not come with patterns. I went to Moda Bake Shop where they have free patterns for all their precuts. Apparently Slice was not a popular precut as there are no patterns listed for the triangles. Basically Slice was just a Layer Cake cut on the diagonal. Anyway, I'm having fun with my Slice packs. Here is what I did with a Color Me Happy Slice pack.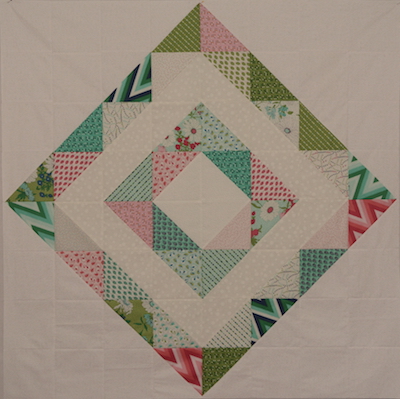 Again, I cut the triangles in half. They are paired up with various white-on-white fabrics to create HST and placed to give this on-point look. The quilt measures 48″ square and will go to my niece's new baby girl. My shopping list is growing! I need a back and binding for this quilt.
I finished the two items on my to-do list, plus started quilting the final border on the Curve It Up quilt – until the tension problems, again, just like two weeks ago. Bummer. An I started three new quilts, not on the list. So! That is sewing progress!
Last To-Do List:
Quilt Turquoise & Blue borders on the Curve It Up quilt. ✔️
Flower Power – finish quilting and bind! ✔️
This Week's To-Do List:
Finish yellow border on Curve It Up quilt
Shop again for background and backs – baby quilts in progress.
Linking to To-Do Tuesday hosted by Home Sewn by us.