Our State is doing a soft opening. That means I actually went out into the world 2 times this past week.
My first trip was with Hubs to Menards for Baltimore Oriole bird feeders. We have been excited to have them back in our yard this Spring. So day two of their visit, we ran out and bought feeders to encourage them to stay for a while. We have had up to 7 males and 2 females coming to the grape jelly and oranges we have put out on the new feeders. They don't seem interested in the nectar feeder, although I've seen them check it out. The grape jelly is the most popular spot.  Sorry no pictures! My son has the camera right now.
The second trip out was to the local quilt shop, Edwards Sewing Center. I needed thread for a border on the Curve It Up quilt.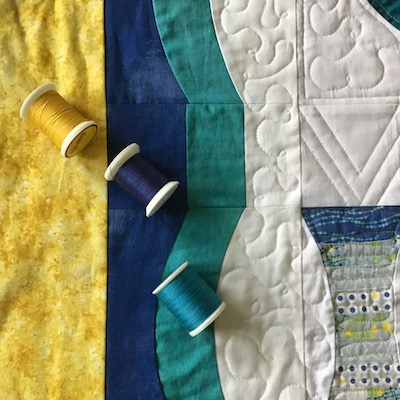 The variegated turquoise from the King Tut line of Superior Thread is what I settled on for the border. It's called De Nile. That's kind of funny!
I did decide to do some quilting in all the white space of the quilt. And as you see, I went with meander with little loops. I think it fills that space up nicely and looks great over all. More photos coming once finished.
While shopping at Edwards, I hoped to pick up more of the blue Moda Grunge I used in the border for the binding. The shop had almost every blue but the one I need! The owner said she will order a bolt! Hope is comes in soon!
I went with black Moda Grunge for the sashing for the Flower Power quilt.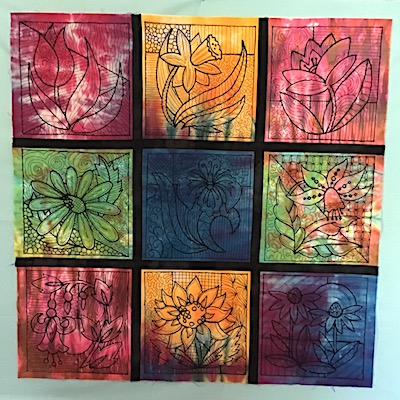 It is sandwiched and ready for a little more quilting. Then I'll bind it in the same black fabric.
Over the weekend, I finished 4 more masks for my daughter. She returned to work on the 11th and she has to wear a mask. She's all set as I had already made a few for her.
That's my happy week! How was your week?
Last To-Do List:
Quilt Curve It Up sashing, hopefully start on borders. I need blue thread. ✔️
Shop for blue thread (and a few other supplies.) ✔️
Select fabric for Quilt As You Go sashing for Flower Power quilt  ✔️
This Week's To-Do List:
Quilt Turquoise & Blue borders on the Curve It Up quilt.
Flower Power – finish quilting and bind!
Linking to To-Do Tuesday. Check out the other quilters over at Home Sewn by Us!