Birthday month continues here in our family! Sunday our daughter celebrated 28 years. And today our son celebrates 42 years! Oh the Hitcher's Guide to the Galaxy jokes are flying around our family texts today! You know, the answer to life, the universe, and everything is 42!
And yes, 14 years between our oldest and youngest kiddos, with three in-between.
On to the list -
To-Do Tuesday, March 14, 2023
Got to keep plugging away on daughter's house. ✔️
Stitch up some charity quilts or keep cutting?  ✔️ or both!
If my friend gets her quilt top finished we might be visiting another friend who will let us quilt the top on her longarm. ✗
Featherweight embroidery. ✔️
1. Work at our daughter's house moved along well with electric installed and inspected. Everything passed! But there was an oversight. New code – with a remodel fire/smoke alarms and CO2 alarms have to be hard wired in. The alarms have been ordered, more electrical wire purchased. So that oversight is moving forward.
Plumbing did not pass inspection. So plumber will be back to fix a few things.
2. I did more cutting for charity quilts, and some piecing.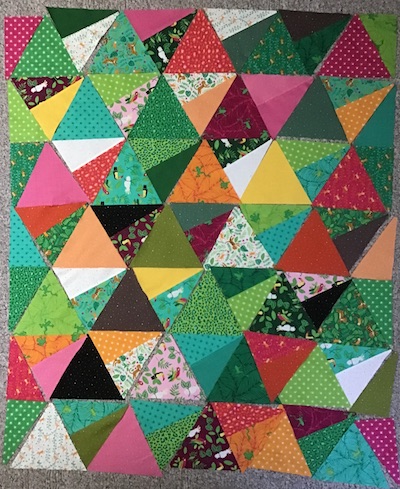 This is Stereo by Jaybird Quilts. I cut triangles from two layer cakes. Moda Jungle Paradise and Riley Blake Dapple Dot. Three rows sewn together so far, not photoed.
3. Janie's quilt!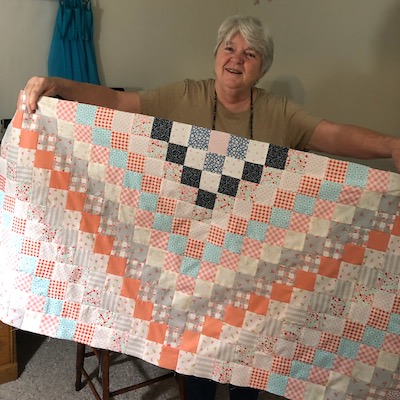 Here is Janie with the first half of Trip Around the World pieced last October.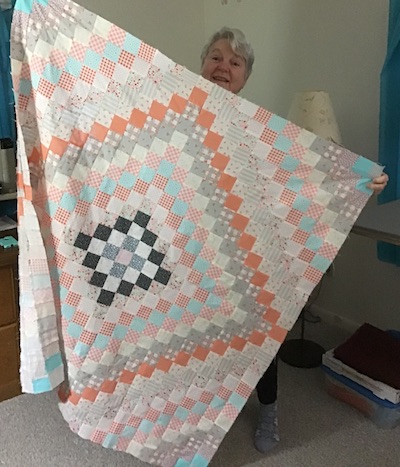 And here she is with the top completed –  minus a border. She did get the border attached, but we didn't have time for sandwiching and quilting. She is trusting me with that. I'll be visiting her in June to deliver the completed quilt. Stay tuned!
4. Featherweight embroidery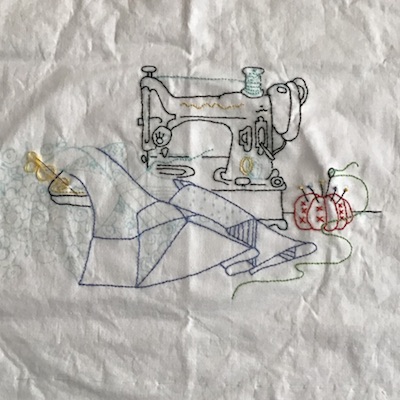 I've missed a few evenings stitching. Since this is not a stitch-along, I'm being more lax with it than I was with Homage to Grandmother's Flower Garden.
What do I have planned for this week?
To-Do Tuesday, March 21, 2023
Tomorrow, Wednesday, our sewing group at church meets. We are making heart shaped pillows for oncology patients. Donated to a local hospital. Got the call their supply is getting low.
Stitching Stereo and perhaps other charity quilts.
Featherweight embroidery in the evenings.
Daughter's house – not sure I'm needed there much this week. There are a few odd jobs I could do, like finish the wall paper removal. You might remember that is a job I don't care for ever so much!
What's on your To-Do list this week?
Linking to To-Do Tuesday hosted by Carol of Quilt Schmidt.