Sunday we finally had our family March Birthday celebration! We have 5 of the 7 of us born in March. Two of our adult kid's families have been sick and we had to postpone our initial plans. Then Sunday the party was moved from our son's house to ours. It was a nice day and we fit in a walk as well as our meal together. Sadly we still had two ppl missing. So here's to health and happiness as our family sure has been catching all the bugs lately.
Here's my mostly sewing world for the week -
To-Do Tuesday, March 21, 2023
Tomorrow, Wednesday, our sewing group at church meets. We are making heart shaped pillows for oncology patients. Donated to a local hospital. Got the call their supply is getting low. ✔️
Stitching Stereo and perhaps other charity quilts. ✔️
Featherweight embroidery in the evenings. ✔️
Daughter's house – not sure I'm needed there much this week. There are a few odd jobs I could do, like finish the wall paper removal. You might remember that is a job I don't care for ever so much! ✔️
1. Pillows for oncology patients.  Oops! I didn't take a photo but we have 30 some ready to donate.
2. Stereo quilt top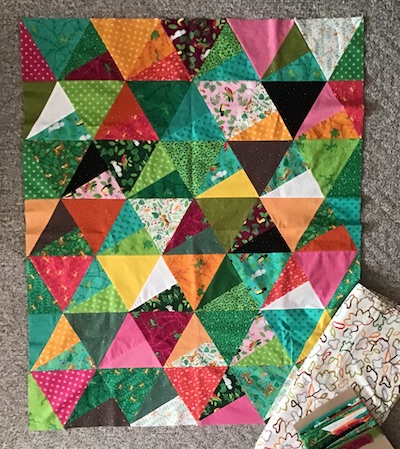 Top is pieced. I found fabric in my stash that will work for the back. And binding made. Stereo is made from 10″ squares. Three triangle are cut from each square with a 10″ x 2 1/2″ piece left over. I sewed all those pieces together to make a scrappy binding.
3. Featherweight embroidery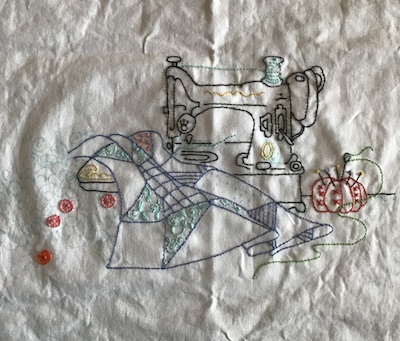 It's moving along rather quickly.
4. Daughter's house – looks like the plumber has been back working on repairs. Then Hubby said the plumber was taking photos one day and sending them to the inspector. Hoping that job will be completed soon. Wiring for fire/smoke alarms and CO2 alarms have been completed. I'm not sure what is left with the wiring before inspection happens again. Also there is the building inspection that has to take place before insulation and drywall goes up. We are slowly moving forward.
I started something new! Ha Ha! With leftovers! Isn't finding a new project with something you already have cut a fun thing!?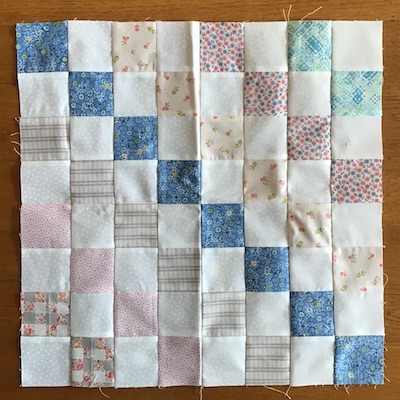 Here's the first block 16 1/2″ square. With the leftover 2 1/2″ squares from Janie's quilt, I'm piecing a variation to Trip Around the World. I'm adding alternating rows of white squares. By adding the whites to the leftovers I should be able to reach 64″ square lap quilt. Maybe larger. We'll see, as I've not counted all the leftover squares but there is fabric left over too if I need to cut more.
Here are my mostly sewing plans for this week -
To-Do Tuesday, March 28, 2023
Friday my quilting group meets for a day of sewing and fellowship. I'm taking along my new Trip Around the World project.
Quilt and bind one or two table runners pieced earlier this month. One will be a birthday gift I want to take with me Friday.
Evening stitching on Featherweight embroidery.
Daughter's house – hubs will be there but I might not make it back until Saturday.
Linking to To-Do Tuesday hosted by Carol of Quilt Schmidt.