OMG October finish!
My OMG for October was to sandwich, quilt, and bind two charity quilt tops. Which I'm happy to say are completed and already donated.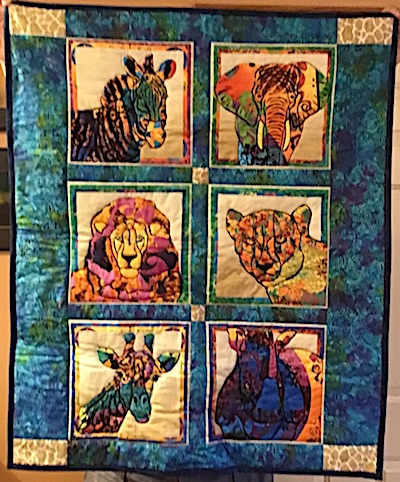 Safari Animals measures 33 1/2″ x 40 1/2″. I cut apart the animals in the original panel and sewed them back together with batik for sashing and border. I used the giraffe print from the panel for the corner stones and corner rectangles. Quilted in black Aurifil 2692 50 weight. I didn't get a picture of the back that ever so nicely showed the quilted animals. I was in to much of a rush to get out the door and donate the quilt!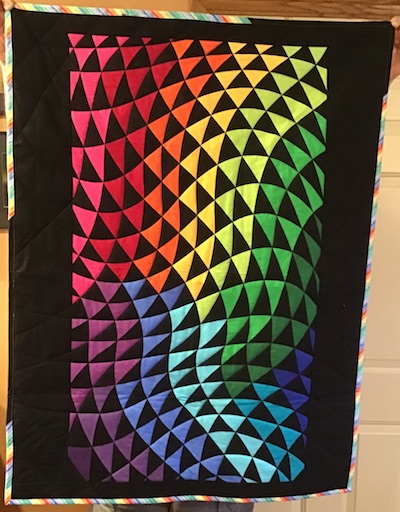 Color Works Concepts- Mirage measures 34 3/4″ x 46 1/2″ also quilted with black Aurifil 2692 50 weight. I followed the curved lines of the quilt,  continuing the curves into the border.
Once the panels were completed, I moved on to making pumpkin mug rugs. A friend requested 3, I made 4 thinking I'll gift the extra if she doesn't want it.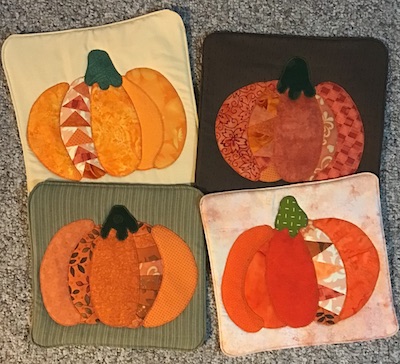 These measure approximately 9 1/2″ square. I used orange fabrics from my stash. There is just a bit of foundation piecing in each pumpkin adding interest. I Misty Fused the pumpkin parts to the background fabric and then machine blanket stitched around the parts. These are all my own design.
Next up I started into a pile of pieced block mug rugs that I'll be giving to my quilting group friends starting in November and into the next year as their birthdays arrive.
I've finished the one I will gift in November.
The pattern is Bitty Barn Blocks by This and That. There is a block for each month of the year. My November friend loves all things pink and purple. For this little 8 1/2″ square block I stitched in the ditch, I think that is all it needs. I have a few other little gifts to add to this. Plus I want to shop for a mug and tea that will coordinate with the purples. My December friend loves orange, already have those pulled for the pumpkins!
Linking to One Monthly Goal hosted by Elm Street Quilts. Go take a look at Patty's blog to share in the fun.
Tags: One Monthly Goal