For October I have two more little quilt tops to finish for charity.
In this first quilt I used a panel called Serengeti Reflections.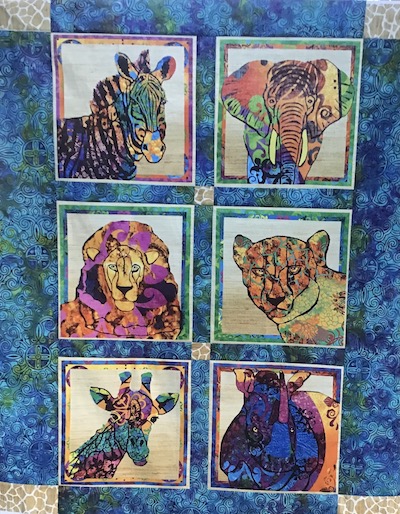 I cut apart and rearranged the animal blocks, adding the blue batik from my stash for sashing and border. The giraffe print used for the corners and in the sashing was from the panel. This needs to be sandwiched, quilted & bound.
The next quilt top was also a panel. I think it was called Color Ways or Waves, don't hold me to either, as I'm not sure.
All I did was add a black border. Again, this needs to be sandwiched, quilted & bound.
Once these are completed, I have some little gifts to make for some members of my two quilting groups. Both groups only have 4 gals each, and I'm one of them, so really only 6 little gifts to make in a year. There are birthdays coming up in November, December and January. I like to make a little homemade gift for my friends, because I know they appreciate it!
My OMG for October is to sandwich, quilt, and bind the two quilt tops pictured above.
If time allows, I'll get going on birthday gifts. Getting a few completed will be a bonus!
Linking to One Monthly Goal hosted by Patty of Elm Street Quilts.
Tags: One Monthly Goal