Last week I forgot to show the picture of my grandson with his train quilt.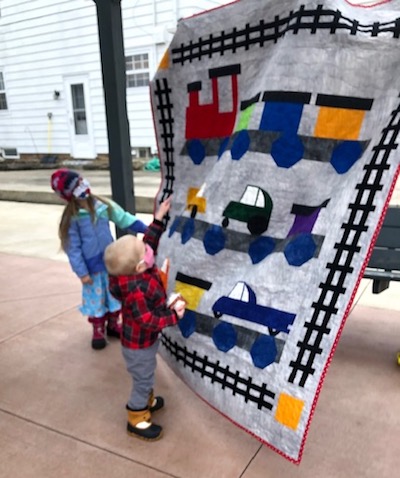 He was so adorable pointing at the train and cars on the quilt!
This week was all about working on the appliqué quilt for my son and his lovely wife! Today is their anniversary, and NO I did not finish the quilt in time to gift the quilt today.
I did complete the quilting on the top and bottom appliqué sections.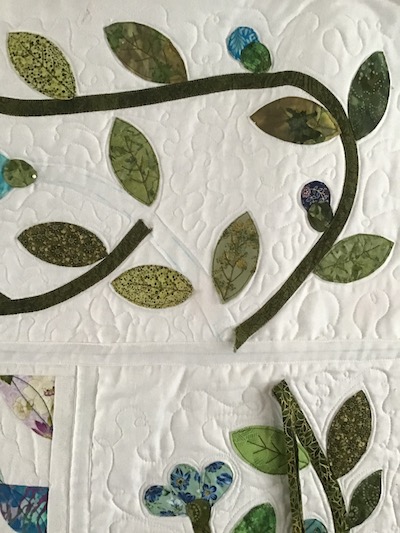 And attached the two section to the rest of the quilt. I used a quilt-as-you-go method. See the white sashing sewn over the seam attaching them together? The vine now has to be stitched in place going over the joining sashing. I hope that makes sense.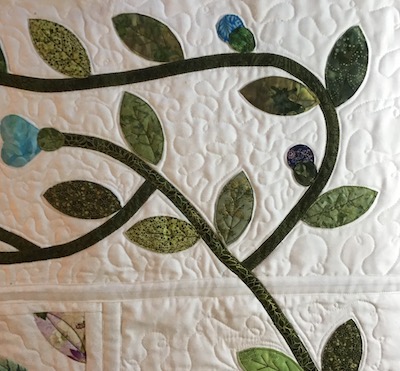 Above the vine is now stitched in place so it continues around the quilt.
The quilt so far, appliqué vine border completed!
Next is a clam shell border.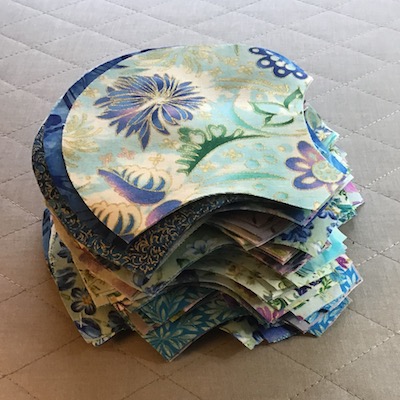 This is what a pile of 228 clam shells looks like.
Cut at 5 1/2,"  5″ finished.
Top right – 90 of the 228 Clam Shells ready to line up on quilt border. I'm using freezer paper templates, pressing a 1/4″ edge over paper for a finished edge. Bottom of photo – 10 more in process.
Once the Clam Shells are all prepped they will be sewn around the quilt for a border of three rows of Clam Shells. I hope to start that process this week!
I feel like January is zooming by! May it be a good quilting month for all of you!
Last Week's To-Do List:
Quilt the two appliqué sections.  ✔️ Completed!
Sew quilted sections to the quilt center.  ✔️ Attached!
If there is time start Clam Shell Border.  ✔️prepping 228 Clam Shells
This Week's To-Do List:
Clam Shells!
Maybe create a Fussy Cut truck pillow for my grandson – Project Quilting 12:2 Challenge.
Linking to To-Do Tuesday hosted by Home Sewn by Us!