Last week I did get the tea cozy made for my daughter-in-law. But totally changed all my fabric & design plans. I came across a quilting challenge I could not resist, so changed my plans to meet the rules of the Project Quilting 11:1 Challenge – Notably Numeric. Read all about what I came up with for the challenge here.
We opened our home to a dinner party given by our son & DIL in honor of her 30th birthday. We had 22 happy people in our home!  DIL loves to cook for family and friends so she prepared and served the meal at our house. Son & DIL are currently refinishing the oak floors in their home, so could not host their own party. Their floors are lovely, BTW! And so is their newly remodeled kitchen with beautiful Amish built cabinets.
I made a tea cozy and apron from a vintage table cloth. If you followed the link above you'll see I'm reposting photos -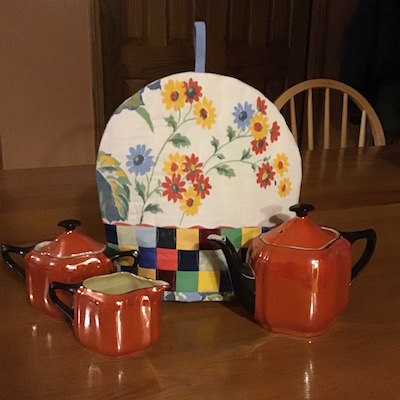 Both the tea cozy and apron were gifted to my DIL along with great grandmother's tea set.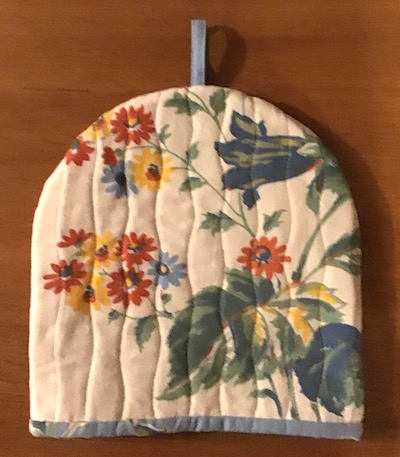 Flip side of tea cozy. Simple wavy lines quilted on my Featherweight. It was my first time to quilt on the FW and it worked like a dream! I used fusible batting, Aurifil thread.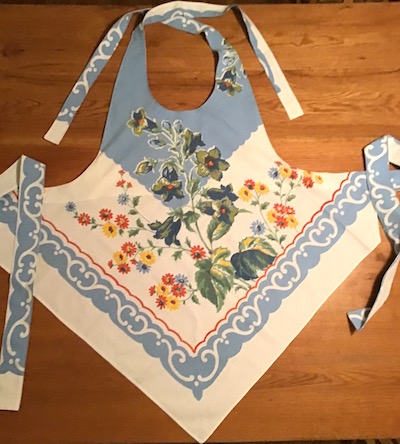 I'm so tickled I had time to make the apron.  Upon opening the apron, she put it on and kept it on for a while. I think she liked it (wink wink) along with the other gifts.
Last To Do List:
Make Tea Cozy by Friday night to gift to my DIL. ✔️ Done!
Maybe work on an apron? ✔️ and done!
To Do List:
Finish up Vintage Truck for son & DIL for their 1st wedding anniversary on the 19th.
Back to Bat Moon Rising quilt
Linking to To-Do Tuesday hosted by Home Sewn by Us.