Straight into the new year – it's Birthday Season for my 2 grands, and also for my newest DIL. Plus January brings the 1st year Wedding Anniversary for my eldest son and his lovely wife!
I have a little appliqué in progress for my son and DIL. She loves vintage. Owning a vintage truck is on her bucket list. When I saw Buttermilk Basin's vintage truck pattern, I just had to make it for her!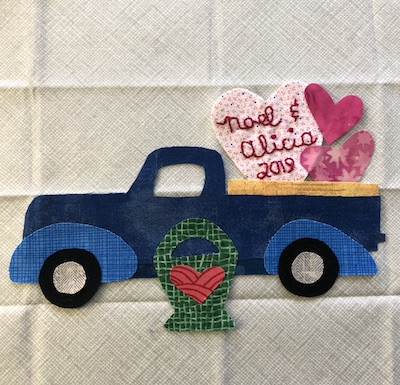 I'm still looking for the right background fabric. This piece still needs a lot of stitching to finish it up. Then framing.
I plan to make an apron for my DIL for her birthday. I did some digging in the fabric stash today and did find something I think will work. That will be next up. Photos coming.
What do you have new going on in 2020?
Last To Do List:
Finish quilting and bind Christmas Countdown quilt.  ✔️ see it here
Enjoy Christmas with family!  ✔️
To Do List:
Finish wall hanging for DIL & son.
Make apron for my DIL.
Linking to To-Do Tuesday hosted by Home Sewn by Us.